Yakima event teaches hundreds CPR
Posted:
Updated: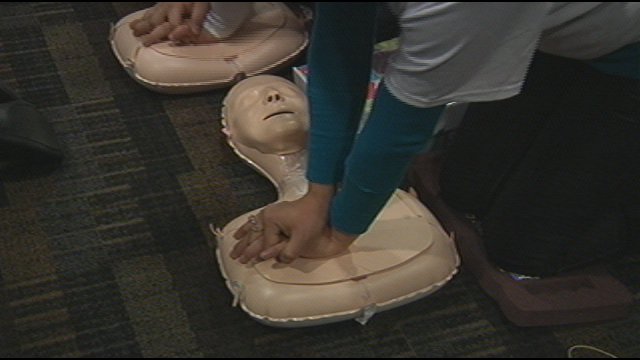 YAKIMA, Wash.-- Every year about 1.2 million people in the U.S. have heart attacks, and many of them die. So what should you do if you're near someone who is having an attack?
The American Heart Association says as many as 138,000 coronary heart disease deaths happen within an hour of the first symptoms, and an important tool people can use to help save a life is CPR.

The third annual CPR Blitz was held in Yakima Saturday and hundreds of people learned how to administer CPR correctly and even use an automated external defibrillator.
Experts say that you're almost three times more likely to survive cardiac arrest if you're given CPR right after it happens.
Organizers at the event say it's an easy thing that can really make a difference.
"Well over 1,000 people die everyday of cardiac arrest and if somebody doesn't do CPR, if you just call 911, they're going to die. Somebody's got to start compressing the heart," said Pete Orgill who started the event.
The AHA says only about 31% of out-of-hospital cardiac arrest victims get CPR.
Organizers at Saturday's event hope that number will go way up.
They say only a very small percent of people in the Yakima Valley know how to give CPR.
The event was put on and sponsored by several local ambulance companies, the Yakima Heart Center, and both our local hospitals.