Firefighters have confirmed 12 dogs dead in a house fire
Posted:
Updated: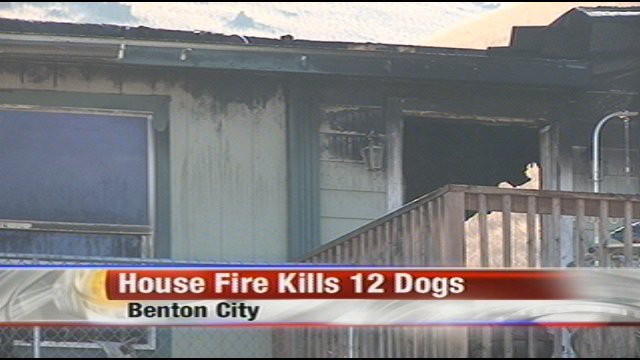 BENTON CITY, Wash. -
Firefighters have confirmed 12 dogs dead in a house fire. Benton County firefighters say at least 12 small dogs are dead after a house fire at 26004 251 Private Road in Benton City. A woman renting the home, 64-year old Linda Brown was taken to Kadlec Regional Medical center for 1st and 2nd degree burns on her hands. No one else was in the home.
The fire started Saturday afternoon around 2:15 p.m. Firefighters say Brown was entering the home when she noticed smoke coming from the kitchen area. They believe the fire started on the stove near the microwave. When they arrived on the scene the house was fully engulfed in flames.
Brown had taken in about 16 small dogs from different shelters. She was taking care of them temporarily until they were able to find a permanent home. Volunteers at the scene say they were able to rescue one small puppy, Chloe. We're told two other small dogs are inside the home and are too scared to come out.
The owner's friend, Kelli Ginn says the dogs still inside the home need help. "they have food and water out for them but they could be wandering in the area. We have coyotes out in this area too. The dogs could be suffering or have injuries and we'd really like to get them out," said Ginn.
Right now no one is allowed to enter the home. The investigation has been turned over to Benton County Sheriff's Deputies. They will be investigating the scene Monday morning. The exact cause of the fire has not been determined.
If you would like to help some of the animals rescued from the fire contact the Forgotten Dogs Rescue group in Walla Walla. They are setting up an account to help pay for the medical bills for the pets. You can reach them at forgotten.dogs.rescue@gmail.com or search them under PetFinder.
If you would like to help out Linda, she is staying with a friend and is without a home. You can contact 509-205-8415 to give donations.