Geese are leaving behind plenty of problems in the Mid-Columbia
Posted:
Updated: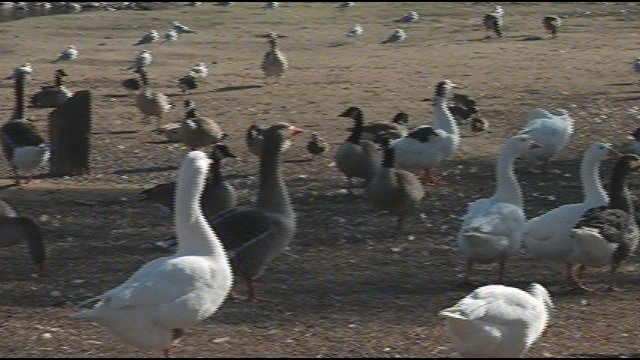 KENNEWICK, Wash. -
Geese are leaving behind plenty of problems in the Mid-Columbia. Flocks of geese are leaving behind plenty of problems this winter in the Mid-Columbia.
There seems to be an increase in goose droppings this year because there aren't as many people in the parks to drive them off. We walked through some parks on Tuesday and in some places it's bad, but health officials say you don't need to be too concerned.
Benton and Franklin County District Health Officer Amy Person says the increase in goose poop is not something people should be worried about. "Goose droppings are like any droppings any fecal products so they can carry bacteria viruses, fungus but goose droppings aren't any more dangerous," said Person.
Most of the Canada Geese and other birds aren't migrating like they normally should. The extra waste can cause problems for some businesses like golf courses that need to keep their lawns clean for golfers. Columbia Point Golf Course General Manager Joe Creager says the additional birds do cause problems. "They do like to eat the grass especially the greens so we see holes every now and then," said Creager.
Different tactics are used using blowers, dogs or expensive sprays to keep the animals away. It's nothing that will harm the birds. "The noise actually is what we've used the most. We have some blank shot gun shells. Some of them actually fly and then explode off the lake, just things like that," said Creager.
As far as visiting other parks in the area families just need to be safe and stay clean after they play. "They don't need to worry. They need to use good hygiene. So if you come in direct contact with any kind of animal waste you should be washing your hands as well," said Person.
Some tips for visitors that do come to the parks, try to avoid the droppings as much as possible. City officials say they will do cleanups in some areas if the accumulation gets to be too much.