Sister 'terrified' of what Powell had done
Posted:
Updated: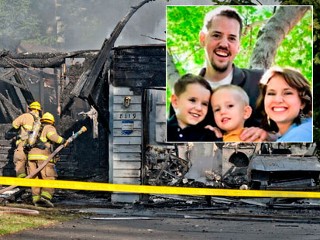 PUYALLAP, Wash. (AP) - The sister of a man who set his house on fire, killing himself and his two sons, knew something horrible had happened when she received emails from her brother explaining what to do with his property and saying he couldn't live without his sons.
In a 911 call released Tuesday, Alina Powell told a dispatcher she was "terrified" her brother, Josh Powell, was going to do something because of pressure he faced after his wife, Susan, disappeared two years ago. Crying, she told the dispatcher: "I'm terrified to drive over there. I'm not afraid of him. He's never hurt me. I'm afraid of seeing something I don't want to see."
A social worker brought Josh Powell's sons to his home Sunday for a court-ordered supervised visit and they entered before her. The worker says Powell closed the door in her face and locked it. He then set the deadly fire.
An uncle and aunt of Josh Powell issued a statement saying there's no justification for the loss of his children, but Maurice and Patti Leach feel "this family tragedy was set into motion from the beginning due in part to the various questionable government agencies' practices, religious bias, the Internet kangaroo courts, and sensationalized news media."
The Leaches say they had agreed to offer a "safe haven" for the two boys and that they had urged Josh Powell to present facts - no matter how disturbing - at the child custody hearing. In the statement released Tuesday, they said they were left disillusioned with the legal system and feel government practices, religious bias, the Internet and news media circumvented due process.