Washington state lawmakers pass gay marriage bill
Posted:
Updated: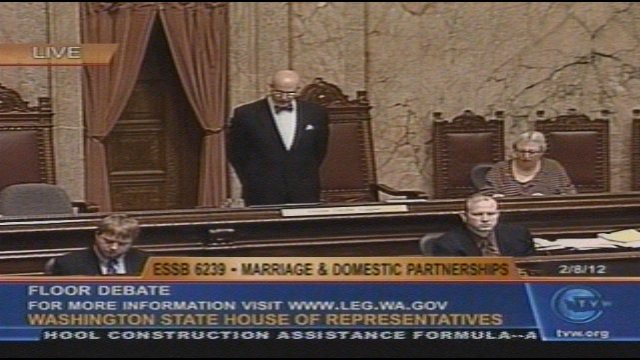 OLYMPIA, Wash. -- Marriage equality is a step closer to becoming reality for Washington state. On Wednesday afternoon, the House of Representatives voted in favor of same sex marriage, 55 to 43. Washington is now well on its way to becoming the 7th state to recognize same sex marriage.
Last week, the state senate also approved the bill. Representative Brad Klippert (R) from the 8th district said, "You wouldn't believe the horror in my daughter's eyes when I asked her, 'would you like to have two of me?' She needs the strength and discipline of a father and she needs the love and nurture of a mom."
On the other side of the spectrum, Representative Laurie Jinkins (D) from the 27th district said, "I'm so proud of the courage and leadership shown by both parties and by both houses here on this issue."
The bill is expected to be signed by Governor Chris Gregoire next week and will take effect 90 days from then. However, opponents are promising to challenge the bill, which could result in a referendum and go to voters in November.
There is no 'window' where same-sex couples will be able to get married this summer. If there is a referendum vote on the ballot in November, there must be at least 120 thousand signatures filed by people who object to this bill.
Same-sex marriage is legal in New York, Connecticut, Iowa, Massachusetts, New Hampshire, Vermont and Washington D.C.