Ranford's Two Buries Tri-City in 3rd, Blazers Take 5-1 Win
Posted:
Updated: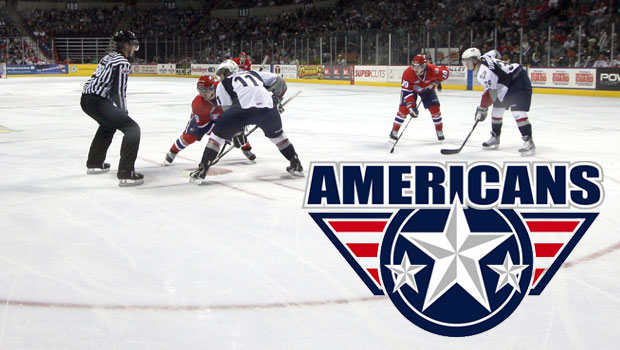 KAMLOOPS, BC – If you were looking for a game that summed up how the past month has gone for the Americans, Wednesday's contest served as a good example.
Backed by two third period goals from Brendan Ranford, the Kamloops Blazers (38-13-1-3, 80 pts) broke open a one-goal game en route to a 5-1 win over the suddenly injury-plagued Tri-City Americans (37-13-1-1, 76 pts) at Interior Savings Centre. With the win, the Blazers have now won 7 straight home games while securing the 4-game season series vs. Tri-City with their third win. Meanwhile, the Americans lost for the 8th time in their last 13 games, which equates to more than half of their total losses this season. The loss also added insult to injury, literally, as Tri-City left Kamloops with a few more banged up bodies.
Despite starting Wednesday's game with four players out with injuries (Wilgosh, Topping, Strömwall, M. Messier), Tri-City put forth a good effort to start the contest. Aided by two early power play opportunities, the Americans found themselves with a 16 to 5 shot advantage after the first period, yet they trailed on the scoreboard 1-0. With 2:38 left in the first, Chase Schaber redirected Brandon Herrod's shot over Ty Rimmer, collecting his 20th goal of the season.
Then, just 11 seconds after their first power play expired, the Blazers quickly made it a 2-0 deficit to start the second period. Only 1:11 into the new frame, Cole Ully's sharp angle, backhanded shot glanced off the catching glove of Rimmer and dropped across the line.
But, five minutes later, Tri-City responded to pull back to within one. After Zachary Yuen started a 3-on-2 rush, Brendan Shinnimin was able to keep the puck in at the midpoint before firing a shot off on Cole Cheveldave. Out in front, however, Adam Hughesman redirected the shot past Cheveldave to collect his team-leading 32nd goal of the season.
Still trailing by one to start the third, Kamloops' Tim Bozon nearly made it a 3-1 game. But, an incredible save by Rimmer kept Tri-City within 1. However, while making the play, it appeared that Rimmer hurt himself, as he asked for additional time to regroup. Rimmer stayed in the game, but was later beaten twice in a two-minute span before being pulled from the contest.
Just past the 7-minute mark of the third, Ranford took a long stretch pass from Schaber, before beating Rimmer with a backhand to make it 3-1. Then, while playing 4-aside, Colin Smith slipped a shot just under the left pad of Rimmer, to increase the Blazers' lead to three. After that, Coach Jim Hiller elected to bring in rookie Eric Comrie, while Rimmer headed to the locker room.
Four minutes into his relief appearance, Comrie allowed a power play marker to Ranford to cap the scoring. It was an incredible effort by Smith, who used two great moves to get around the Tri-City defense, before passing it off to Ranford, who was camped back door.
In the end, Rimmer and Comrie combined for 24 saves on 29 shots in the loss. Meanwhile, Cheveldave bounced back from his worst outing of the season to stop 33 of 34 and record his 27th win. Tri-City finished the night 0-for-3 on the power play, while Kamloops went 1-of-3 on the man-advantage.