Goose found with arrow stuck in its side
Posted:
Updated: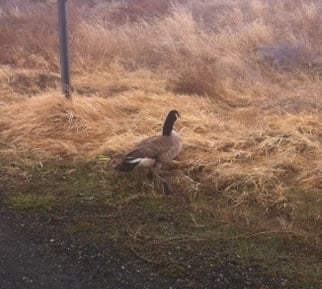 RICHLAND, Wash. -- Water fowl hunting season ended more than a week ago. But NBC Right Now received an email from a concerned viewer who saw a goose shot by an arrow.
She contacted a number of places and couldn't find help. So what can she or anyone else in a similar situation do?
According to officers, they warn people not to take matters in their own hands and pull the arrow out. They say that could cause even more injury to the bird. That viewer sent us this photo of the goose with an arrow lodged in it's backside.
She took it in Columbia Park near McDougals' restaurant in Richland. Officers say sights like this are very common, and they get lots of calls from worried people.
Problem is, Fish and wildlife officials say they can't do anything because of their small staff and the large number of birds, "they're incredibly resilient. We've had reports of geese with arrows in their neck where they would live for months with that inside of it," explains Fish and Wildlife Sergeant Mike Jewell.
Archery hunting season started in October and just ended January 29th. Officers say the recent date is one reason people may see birds with arrows in them, and archery hunting is becoming more popular, so it may happen even more.
But since the season is closed, anyone caught hunting could be fined $162.00.