Washington becomes the 7th state to approve same-sex marriage
Posted:
Updated: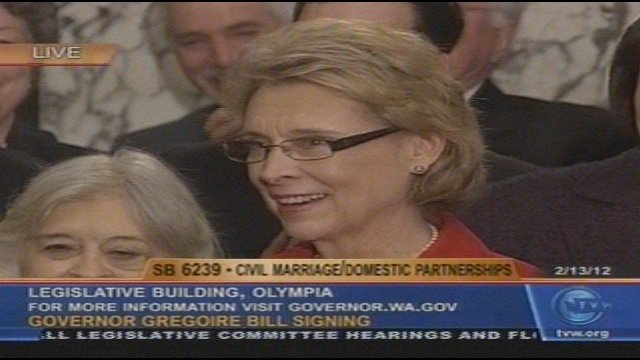 OLYMPIA, Wash. - Gov. Chris Gregoire has signed into law a bill that legalizes gay marriage in Washington state, making it the nation's seventh to allow gay and lesbian couples to wed.
"I'm proud our same-sex couples will no longer be treated as separate but equal. They will be equal in the great state of Washington," said the teary eyed Democrat Governor minutes before signing the bill.
"I am so proud of so many who have led the way. Not just this year but every hard step that has come before. I'm proud of our legislatures of both parties. Who have stood up for what's right,who found against discrimination who took a personal journey as I did and voted their conscience," said Gregoire.
It's a historic moment, but same-sex couples can't walk down the aisle just yet. The law takes effect June 7 but challengers of Washington's newly signed gay-marriage bill have filed a referendum challenge less than four hours after Gov. Gregoire signed into law the bill authorizing civil marriage for same-sex couples, SB6239, Joseph Backholm of Preserve Marriage Washington filed Referendum 73 seeking to overturn the law.
Pastor Dan Keller from the Island View Worship Center in Richland was also in Olympia helping organize the referendum.
"We feel this has been forced on the people of Washignton by a few people rather than letting the voice of the people be heard," says Keller.
If opponents gather 120,000 signatures by June 6th, the law will be put on the ballot for voters to decide in November.
Separately, an initiative was filed at the beginning of the session that opponents of gay marriage say could lead to the new law being overturned.
In the meantime, Same-Sex couples cannot marry until voters pass the referendum.