Local man starts business recycling metal junk
Posted:
Updated: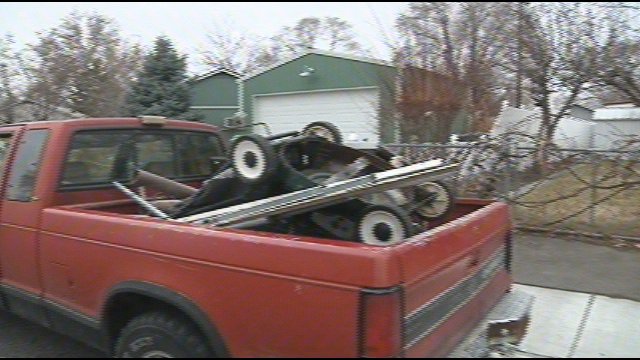 RICHLAND, Wash. -- Do you have some metal junk laying around your house? Well before you haul it away, a local man wants it.
Cory Nelson hops in his 1986 Chevy pickup and cruises around Richland looking for junk. It's not the most exciting job, but what most see as broken down, rusted, old junk, Nelson sees as extra money and a chance to help the environment.
"A lot or people got them laying around. A lot of people have a broken washer or dryer sitting out in their shed or basement or back patio that maybe quit working months ago," explains the new business owner.
"I may come up with some other stuff, cause I've got lots of junk," says Fred Fleming, a homeowner happy to get rid of his 30 year old lawnmower.
Magic words for a man who has made as much as $600.00 dollars in a week of collecting. Homeowner Fred Fleming is ditching his 30 year old lawn mower.
It will join old washers, roof awnings, a stove, car batteries, sinks, tubs, and a lot more. Nelson started recycling more than a month ago. He lost his job, and needed cash. What started out as a temporary solution turned into a business.
In the month he's been loading up metal, he says homeowners are happy to see him and his old pickup, "they're glad to get rid of this stuff. You know a lot of don't have time or a truck or a good back to get this stuff loaded and get it loaded away to the dump or wherever," says Nelson.
People find out about him through word of mouth and his website. Homeowner Brian Coulson was one of the people to take advantage of the free service, "this would normally be going to the dump. And it wouldn't be doing any good to be making more of a mess."
Nelson says the reason why he collects metal is because recycling metal scrap reduces greenhouse gas emissions and uses less energy, "I'm helping the environment out and it's mutually beneficial all the way around, so I'm really excited about it."
Nelson says he's based in Richland, but he does make pick-ups all over the Tri-Cities. If you'd like more information about his business, go to his website www.localboysmetalrecycling.com, or call 509-308-8251.