Richland students see improvements with iPads
Posted:
Updated: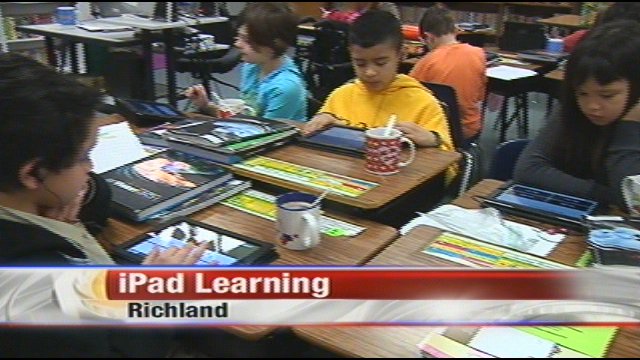 RICHLAND, Wash. -
Richland students see improvements with iPads. We checked in with students at Jefferson Elementary School on Tuesday to see how the new technology is working. The school district recently approved children in the 3rd grade to receive iPads to help their learning in the classroom. The students have had the iPads for over a month.
Teachers we spoke with say there's already been major improvements in the classroom and that it's definitely worth the $50,000 investment. Jefferson Elementary 3rd graders have already seen a jump in their reading levels. On Friday they will be tested in math.
Every morning students are in class on their iPads before the bell rings. They're working on their multiplication tables. They're using specific applications that improve their learning. Teacher Heather Hadler says "we've already seen almost every child in the classrooms reading score increase by anywhere from 8-10 points which is phenomenal." The most popular app among the students is Math Ninja. It's like a game and the students don't even realize they're learning.
They teach kids on the iPad at an earlier age to better understand the technology of today. Teacher Julie Goodhope says "technology is out there. So the technology piece is something that they need to be able to know and be able to maneuver and believe me they maneuver very nicely."
Points are marked down to track progress. Students are getting ready for the M.S.P. coming up in spring. The school also wants to see how much of a difference the iPads make for learning. They are hoping to move the iPads into all classrooms in the school.
Principal Bobbi Buttars says "now we're just really excited for the growth we've seen in reading and we're really hoping to see it in math which I think we're going to see." A final evaluation will be given and presented to the school board April 24th. Then the school district will decide whether or not to keep iPads coming to Richland Schools.