WV school leaders to meet next week to discuss levy
Posted:
Updated: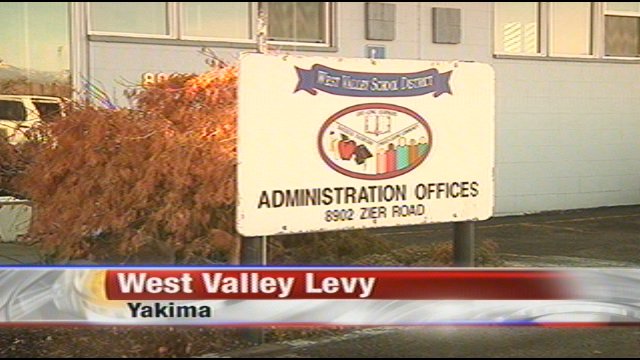 YAKIMA, Wash. -- West Valley school leaders have plans to meet next week to go over a replacement levy.
The district's 2012 Maintenance and Operations Levy failed Tuesday night with only 44 percent support.
"Everybody should vote yes," said Richard Johnson, who voted for the levy. "I'm sorry people don't feel that way, but I think we need to support our schools."
The concern for more cuts in the K-12 funding got district leaders to ask for a nearly 24 percent increase of their current levy.
"In the past four years, we've had $4.8 million cut from our budget," explained Dr. Peter Finch, assistant superintendent for the West Valley School District.
The cut is more than 10 percent of their $42 million budget for this school year, according to Finch.
Under the proposed levy, Finch says property owners with a home valued at $100,000 would have paid about $360 for 2013 and 2014.
"They always say that it's not going to cost you any more in taxes, but what they don't say is if the levy fails, your taxes will go down," says Don Meighan, who opposes school levies.
If levy money isn't approved in the future, Finch says the district will have to make significant cuts. "Well the majority of the budget for the schools goes to personnel. So if the levy didn't pass, there would be cuts to personnel," Finch said.
Finch says the levy money also pays for extra-curricular activities and programs for students.
"We know that the schools need help, and so we just are for schools and for children," said Marilyn Wellman, levy supporter.
School leaders say they plan to run a replacement levy for the next election in April. The West Valley School Board and the Levy Committee will discuss the levy at their next Study Session meeting, scheduled for February 22nd at 6:30 a.m. at West Valley High School.