Local youth gang court making progress with participants
Posted:
Updated: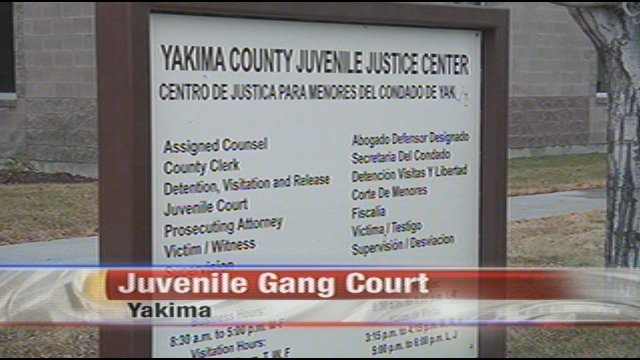 YAKIMA, Wash.-- Yakima County's Juvenile Gang Court is getting a lot of attention from state legislators, with a bill being considered in the Senate. The program is just a few months away from it's one year anniversary.
Yakima County has the only Juvenile Gang Court in the state, and one of the few in the country.
In fact it's being used as the measuring stick for others around the nation.
And as one year quickly approaches, the program's administrators and counselors can already see they've made a difference.
"I think it offers the kids and families a new opportunity, a new perspective on life," said Owens Barrios.
Juvenile Gang Court is a nine to twelve month court supervised program that works to get kids out of the gang life. In exchange, the young offenders get reduced punishment for previous crimes.
Barrios is the probation officer that works hard to get the kids on the right paths.
"We are giving them a lot of tools, a lot of resources so that they can sustain the changes that they are making," Barrios said.
The program has eight participants right now, ranging in age from 13 to 17 years old.

They all wanted to give gang court a try, and almost a year in, it seems to be paying off.
"All of them have lowered their risk factors, increased their protective factors. That's huge," said Court Administrator Robyn Berndt.
They're all still in school, and none have not been convicted of a crime since starting.
But like most rehab programs, gang court has not been immune to failure.
They've had one person drop out and get back into the gang life.
But while one falls back into the gangs, 8 others are still working hard to turn their lives around.

"I'm very excited to actually see out first round of graduates and see what the future holds for them," said Barrios.
Juvenile Gang Court is funded through a grant from the Gates Foundation. It'll pay for the first 18 months of the program but they're still looking for ways to keep it funded after that.