Ron Paul stops in Richland
Posted:
Updated: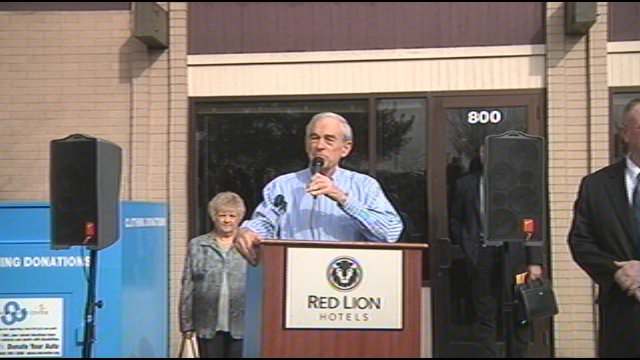 RICHLAND, Wash.—Republican presidential candidate Ron Paul stopped in Richland Friday to rally supporters ahead of Washington's caucuses.
More than 1,200 people packed into the Richland Red Lion for the town hall meeting. He and his campaign are pushing the idea that they can bring back the liberties to the American people.
"When we realize that when an idea's time has come armies can't stop it," says Ron Paul, R Presidential Candidate.
The Texas Congressman covered government spending, foreign police, and the war on drugs. Another hot topic was debt. The congressman says he is the only candidate that will offer real cuts to the federal budget, and abolish the Federal Reserve and income taxes.
"It's your money you should get to spend it not the government," says Ron Paul, R Presidential Candidate.
NBC Right Now asked Ron Paul about the controversial issue of abortion, especially with Obama's new plan providing contraception coverage through insurance.
"If you don't have respect for all life you can't defend liberty. I defend liberty but if I ignore life the life of a fetus that weighs eight pounds before birth how can I defend liberty," says Ron Paul, R Presidential Candidate.
Ron Paul has been criticized for his stance not only on abortion but also on his ideas on lowering government spending. Some say they'll never work. However, at the Richland town hall meeting his support was loud and clear.
Ron Paul will hear Washington's response March 3rd at the state caucus.