Union Gap couple files appeal over sewage issue
Posted:
Updated: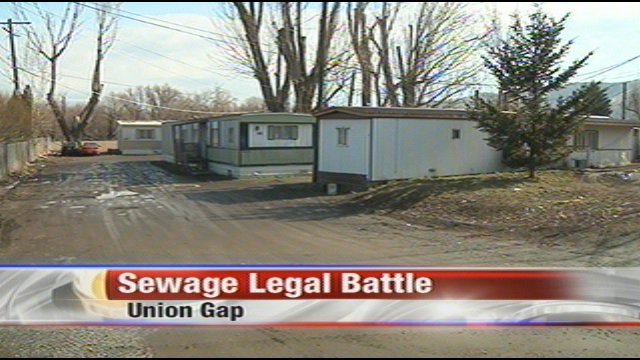 UNION GAP, Wash. -- A legal fight continues to brew between the owners of a trailer park and the City of Union Gap.
In October 2011, a pump broke at the trailer park owned by Fred and Patricia Dills. The incident caused gallons of sewage to spill into neighboring property, according to the city.
The city fined the owners asking them to fix it, but the owners have appealed saying they've been in compliance the whole time.
"We're tired of being portrayed as bad people when we had some sewer water go on the ground on our property," Patricia Dills said.
The Dills say they've owned the trailer park on East California Street for about 25 years. Recently, the owners have had to be on the defense over claims their tanks broke, spilling gallons of raw sewage into other property.
"The hearing examiner did not hear our side of the story, whatsoever, and that's why we filed the appeal," Dills said.
The city has fined the Dills several times for not complying with the city's septic system codes.
Neighbor Kevin Cask, whose property is just a few feet away from the Dills' pump, says he's frustrated. "'Cuz if I know, I come out here and I see water, I gotta go to the city now. I gotta make another report," Cask explained. "I gotta try to get them to pump it out before it fills up my yard, you know, with just a cesspool, basically."
Cask says he's had to deal with their pump station failing every month for the past two and half-years. He says he's spent approximately $2,000 just in clean-up.
"We have nothing against improving it, as long as it's reasonable," Dills said. "But we're not going to redo the whole system or anything."
The Dills have hired Marty Dixon as their attorney, and are asking for the city's hearing examiner to reverse their decision. The owners say they've done nothing wrong.
Calls made to Dixon were not returned Wednesday.
"We're trying to work with them and their attorney and make sure that they come into compliance, because really, the city's main concern is that we get that issue resolved," said Robert Noe, attorney for Union Gap City.
Attorneys for both sides are expected to meet at a hearing scheduled for next month, where they'll go over preliminary issues with the Dills' Land Use Appeal.