Scores released from students using iPads in school
Posted:
Updated: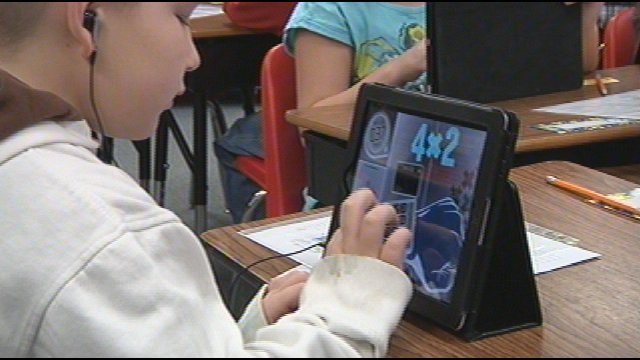 RICHLAND, Wash. -
Scores released from students using iPads in school. 3rd graders at Jefferson Elementary School in Richland just received their tests scores after implementing an iPad learning program at the school. The students have been using iPads for the last month to help them improve math and reading skills. They were tested last week to see if the pilot program has made a difference.
School staff saw much improvement these students. The iPads helped so much that one student even made a 50 point gain on their math score. The average point gain was an increase by 9. Now the 3rd graders have the highest math scores compared to other 4th and 5th graders at the school.
Principal Bobbi Buttars says the school is thrilled with the math and reading test results. "We saw a lot of growth in reading, that was earlier in the week and we saw one student that even gained 50 points. She went all the way from the low group all the way to the top high groups," said Buttars.
School board members came visited the school to see how well students work with the iPads. Now teachers are expanding the subjects they teach with the iPad. A new focus is geography. Students will be tested again in the spring to assess their improvements again. In April the school board will review those results and decide whether they are going to bring more iPads into the schools.
Richland Superintendent of Schools Jim Busey says the expected to see big improvements from the iPad program. "Between the testing in the fall and the winter it's incredible growth. Every student has gained and some very significant and we're very proud of it," said Busey.
Groups like the Kiwanis Club of Tri-Cities and the PTA are working to offset the costs for the iPads. So far they've donated $13,000.
Here's a list of applications Jefferson Elementary School students are using:
Math: Multiplication Rap 2X-12X, Math Board, Counting Money, Math 3 Testing Prep, Master the Math, Math Ninja, Multiply Wiz, Times Tables Warp, My Math App, Math Quizzer, Basic Math, Rocket Math Free and Subtraction Sardines.
Language Arts:Reading Comprehension Passages Level 1, Analogies 4 Kids, Futaba, Fry's Sight Words, Stories "Read Me", Tic Tac Toe Phonics, World Ball Free, Letris 2, Mad Lib, Chicktionary, Free Grammar, Rapunzel Interactive Book, Animated Puzzles, Stack the States Lite, Story Buddy, Toontastic, Story Wheel and Bluster.