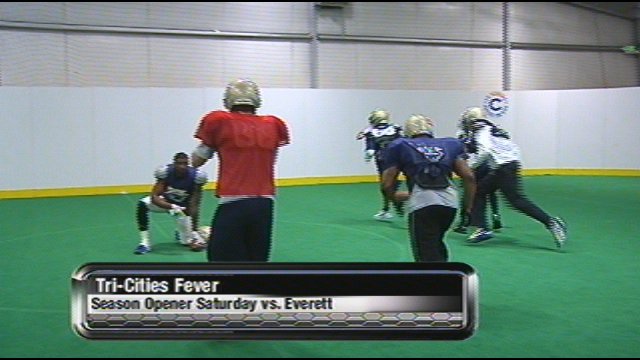 KENNEWICK, Wash. -- In just three days, the Tri-Cities Fever open up the 2012 regular season. Tri-Cities plays a home game with Everett on Saturday night.
The team has spent much of the past few weeks cutting down the roster size to 25 players. With finalizing the roster out of the way, the team turns its attention now to the game on Saturday. The Fever are anxious to get back on the field, and move past last seasons loss in the championship game.
"We're in game preparation mode. We've made some tough cuts - we've cut eleven guys in the last three days. And we're cutting down to the team that's going to be on the field Saturday night," said Adam Shackleford, Fever head coach.
"We're antsy. We're ready to go. I think we're tired of hitting each other, so you know how that goes. But we're ready to go," said Leon-Wright Jackson, former Pasco football star now in his first year with the team.
"We have room to improve and the sky is the limit because everybody has talent. So once we put the talent together with the mental aspect of the game we'll be perfect," Quarterback Houston Lillard added.