Newt Gingrich's Kennewick Rally
Posted:
Updated: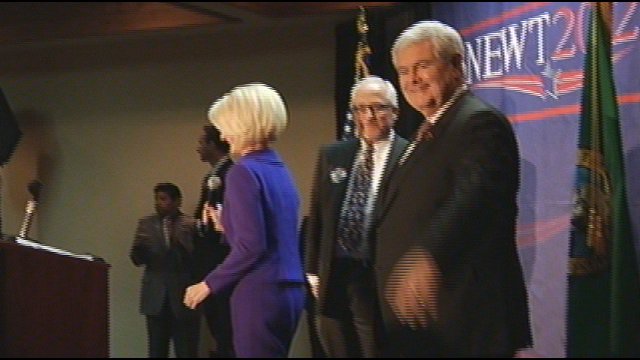 KENNEWICK, Wash.-- Republican presidential candidate Newt Gingrich made a campaign trail stop in Kennewick today.
Six hundred people came to hear him speak at the Red Lion Hotel. The uncertainty of who will take the the GOP nomination in the race for the White House has brought many national campaigns to our state.
Even though our state typically goes blue, each candidate is making many appearances vying for whatever delegates they can get. The Washington state causus falls just three days before the March 6th Super Tuesday, when ten states have primaries and the most delegate are up for grabs.
Candidates see that our state is an important win to set the tone for Super Tuesday. Gingrich led his speech with an emphasis on energy and jobs. He distanced himself from the Obama Administrastion by contrasting his stances with theirs. He went on to take aim at the Energy Secretary Dr. Steven Chu for the current high gas prices.
Gingrich said "If you like $2.50 gasoline, we want you to be with us. If you'd rather have $8 a gallon like Dr. Chu, you ought to be with Obama. If you like jobs and a paycheck we want you to be with us if you prefer food stamps and dependency you ought to be with Barack Obama."
After the rally Gingrich went on to an appearance in Spokane.