Shinnimin becomes first to 50 in 13 years; Ams down T'Birds 5-1
Posted:
Updated: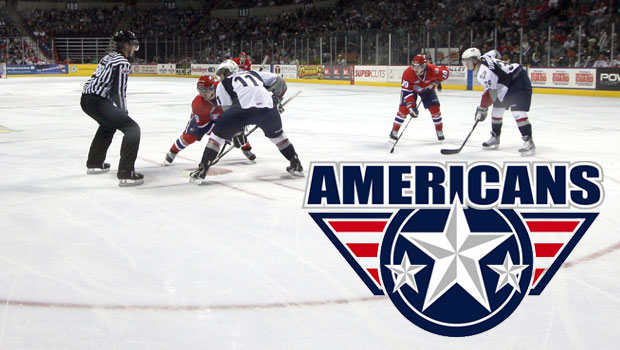 KENT, Wash. --Words are becoming harder and harder to find that accurately depict what Brendan Shinnimin has done in the month of February.
Recording a hat trick for the third time in his last four games, Shinnimin helped propel the visiting Tri-City Americans (44-15-1-2, 91 pts) past the Seattle Thunderbirds (21-38-1-1, 44 pts) 5-1 in front of 3,654 fans at ShoWare Center. With the win, the Americans stretched their winning streak to six games and regained control of the top spot in the Western Conference. Meanwhile, Seattle has now lost 8 straight games vs. Tri-City and 7 of their last 10 overall.
Unlike the night before, where he needed the final minute of regulation before scoring, Shinnimin made sure he stretched his goal-scoring streak to 10 games earlier on Sunday. With 3:43 left in the first period, Patrick Holland forced a turnover, then took off on a 2-on-1 breakaway with Shinnimin. After drawing the defender, Holland fed the puck cross-ice to Shinnimin, who beat Daniel Cotton to get the scoring started.
Penalties then doomed Seattle the rest of the night, as they were called for 16 infractions totaling 78 minutes, and putting the Americans on 8 man-advantage opportunities over the course of the game. And, with less than a minute remaining in the 1st period, and on their second power play, Shinnimin connected inside the far post to make it a 2-0 lead. It also made Shinnimin the first 50-goal scorer for Tri-City since Dylan Gyori in 1998-99.
Just 1:21 into the 2nd period, and while playing with a 2-man advantage, Shinnimin capped his natural hat trick after he buried a pass from Justin Feser. Ten minutes later, and on another 5-on-3 opportunity, Shinnimin took advantage of a Jordan Messier screen to beat Cotton from the high slot.
Then, only 3:08 into the 3rd period, and on yet another power play, Adam Hughesman fired a one-timer pass Cotton to make it a 5-0 Tri-City advantage. Seattle's Luke Lockhart would add a late marker to break up Ty Rimmer's shutout bid, but it was too little too late for the T'birds on Sunday.
Rimmer finished with 20 saves to earn his 26th win of the season. Meanwhile, Cotton stopped 29 of 34 while falling to 0-7 on the year. The Americans finished the night 4-for-8 on the power play, while Seattle did not receive any man-advantage opportunities.
The two teams will now take Monday off before renewing their rivalry on Tuesday, February 28 inside the Toyota Center. Game time is 7:05 p.m. The Americans will be looking for their 7th straight win, while Seattle looks to avoid a 9th consecutive loss to wrap up the season series. Tickets are available through all Ticketmaster outlets, including online at ticketmaster.com, the Toyota Center box office, or all Fred Meyer outlets. The game will also be broadcast live on NewsTalk 870 AM, starting with the Sterling Savings Bank Warm-up Show at 6:45 p.m.