Firefighters participated in electric vehicle safety training
Posted:
Updated: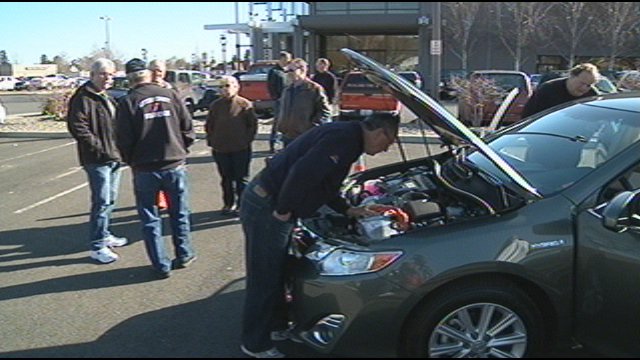 YAKIMA, Wash. -- Dozens of first responders from all across the region are in Yakima this week for the annual training officers conference.
On Monday, The National Fire Protection Association, along with the Washington State Fire Training Academy hosted an electric vehicle safety training class at the Yakima Valley Convention Center.
Firefighters came out from all over Washington state, some from Montana, Oregon, Idaho and even Canada to attend the training session.
Experts predict there will be one million hybrid, electric vehicles on America's roads by 2014. These cars pose some new challenges for firefighters responding to emergency situations, including hazards to first responders.
Vehicles like the Chevy Volt hold up to approximately 50,000 volts of electricity.
Yakima County District 5 fire captain and training officer, Dave Martin says their class is the only type being offered in the state of Washington, right now. "When these things crash they're kinda scary, because there's so much electricity there," Martin explained. "And, if you don't know what wires you can and can't cut, and where you can and can't open things up, it makes it so tough."
Before cutting or opening an electric vehicle involved in an accident, Martin says crews have to first "de-energized" the vehicle - by removing the key, and disconnecting both the vehicle's hybrid and main batteries.
California fire captain and NFPA instructor Matt Paiss says the electrical vehicle training classes are being paid for by a grant from the Department of Energy.
"This training is to teach first responders, law enforcement, tow truck operators, and anyone that might interact with a new hybrid electric vehicle," Paiss said.
The eight-hour course covered several areas specific to hybrid and electric vehicles, including the extrication process. Those participating in the safety training will receive a Certificate of Completion for taking the course, and will return to their respective cities to train other firefighters.
The electric vehicle safety training has already taken place in 23 states. Leaders hope to have first responders in all 50 states trained by 2013.
Emergency personnel are also taking other classes at the annual officers conference. The conference runs until Wednesday.