Getting ready for the 2012 Republican caucus
Posted:
Updated: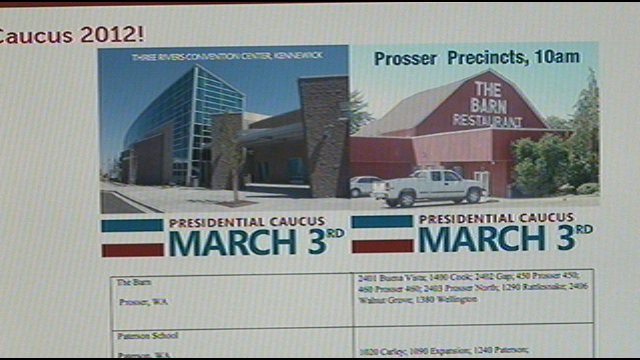 KENNEWICK, Wash. --Saturday, March 3rd, Washington voters will weigh in on the Republican presidential nomination.
The state is holding caucuses this year instead of a primary because of state budget issues.
"We will elect delegates to a county convention who will elect delegates to a state convention, who will elect delegates to our national convention where we will select our Republican nominee for president," explains Benton County GOP Chair, Patrick McBurney.
If you're a registered voter, this is the only option you have to choose the person you want to be the Republican nominee.
This years primary was canceled because it cost too much for the cash strapped state. With the primary, all voters had to do was mail in their ballot. But the caucus requires a little more work.
Voters have to show up to your precinct by 9:30 in the morning and stay until noon. But McBurney says there's a benefit to this system, "It can be a negative that you're going to be spending time, but it's also positive because you and your neighbors are going to get together and discuss those issues that are important to you."
The biggest question county auditors are getting is where is my precinct?
KNDU went online to the state Republican party's web site which directs us to a link to put in our name and date of birth and the precinct comes up.
Voters are split on the idea of a caucus. Jerry Brinkley of Kennewick says he plans to go to get informed and learn about the process.
Others like Dale Wilson say, "Sometimes I think a primary would be more efficient and more accurate of what the people want to vote on."
Local party leaders urge people to come around 8:30 in the morning. The Democratic caucus will be held April 15th.
To find out where your precinct is go to, https://wei.secstate.wa.gov/olvrsite/