DOE gives tour of Central Waste Complex, possible leak site
Posted:
Updated: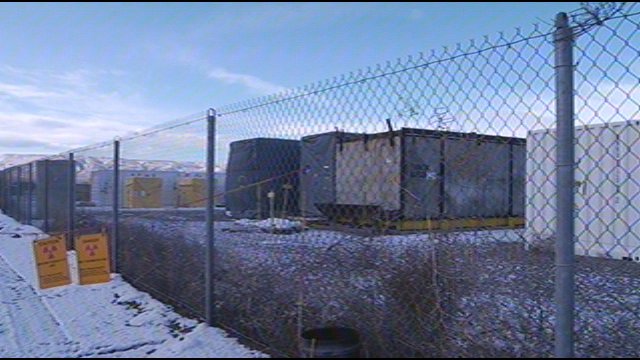 NEAR RICHLAND, Wash. -- After disputed reports of a possible leak at a Hanford waste facility back on February 6th, The Department of Energy invited NBC Right Now to visit Central Waste Complex.
"There's no danger to any workers, and as you could see today, we're very close to the box. and there's not a concern here," said DOE spokesperson Cameron Hardy.
Hardy and Department of Energy CWC Project Manager Mike Collins, spoke with Lisa Loevsky "on the record" during her visit Wednesday. After seeing the concrete box in question and the surrounding boxes, she had a few questions for the two, which were answered.
When asked if the leak in question is just rain water with contamination, Collins responded with "That's a possibility. We don't know enough yet about the situation to say that, " Collins went on to say that at this point, making a statement would be speculation.
"We have no evidence of any cracks, in the box at all. We will continue to survey the box. like we've always done, and if we find evidence of cracks, we'll immediately report that," said Collins. He went on to say, the DOE sent samples they collected to a laboratory.. "We also have the Department of Health was out here. They took samples as well. So we want to find out what type of contaminants we have, both radiological and hazardous. Then based on what we find out from the laboratories, we'll act from there."
Hardy did confirm that about 36 gallons of liquid was collected over the course of 23 days in their drip pans. He says, the contractors who work onsite know that the liquid is rain or snow melt.
The contents of the concrete box are believed to be contaminated debris, piping, glovebox sections, paper, cloth, rags, empty fiber or plastic containers.
The disputes surrounding this situation come from an exchange of phone calls and emails between the Department of Ecology, who are supposed to oversee the site and the Department of Energy. Notes of the first report made on February 7th show the an employee for CHPRC called Ecology and made observations calling the container a "leaker" and noting "possibly corner of box has split in it."
Hardy says that's likely a misinterpretation. "Somebody misinterpreted the notes, misinterpreted the fact that there were drips with anything other than the rain water. Someone's saying it's a leaker when its not.," said Hardy.
CHPRC project manager at CWC Stu Mortensen also said, he has not seen a crack and also believes the liquid is rain water or melted snow.
Drip pans were put under the concrete container after the incident was reported, and Wednesday afternoon a plastic tarp was to be placed over the concrete box in question.
"Out of an abundance of caution, because there was some contamination readings found off of the box, we're taking the extra steps to put the tarp over the top. " says Hardy.
Hardy also says they will not be tarping all the containers, but will do it on a case by case basis. "In this case we got some positive readings for contamination, we've collected some rain water and done a lot of sampling on it, now we're covering the box.," says Hardy.
Department of Heath Spokesperson Donn Moyer said an inspector did visit the CWC site last Friday and also collected samples out of routine, not concern. Moyer said the DOH is responsible for monitoring radioactive air emissions, and the levels detected at the site do not show a need for monitoring.
Department of Ecology is planning to do their own inspection and take their own samples. Collins says, their samples should be back in a couple of weeks as well. We will bring you those findings when they come in. This story is developing.