Habitat for Humanity kicks off neighborhood rehab program
Posted:
Updated: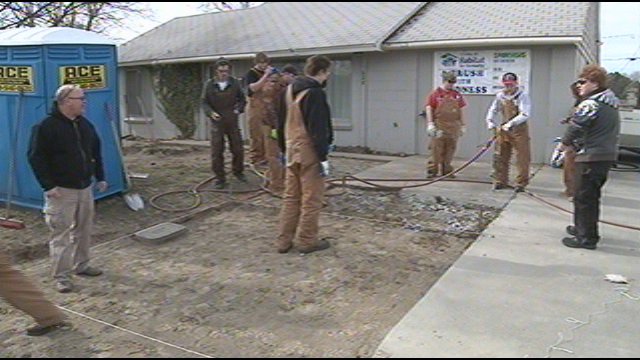 KENNEWICK, Wash. -- When you think of Habitat for Humanity, building homes is what first comes to mind.
But now they're expanding their focus to renovating homes in older neighborhoods.
Volunteers and students from Tri-Tech are tear up the driveway of Margaret Gass' Kennewick home and the owner Gass is beyond happy."They went above and beyond my needs, and I'm overwhelmed," says Gass.
Overwhelmed by the aging driveway and crumbling steps Margaret has tripped over at least twice. She has cerebral palsy and uneven legs which make walking tough.
Despite that she looks for ways to give back. When Gass heard Habitat for Humanity was building a home in her neighborhood she went to help and left with a surprise.
"They were looking for ways to give back to the neighborhood they were helping and they asked if there was anything small I needed done," explains Gass.
So she told them about the steps and instead got something big, her whole driveway re-done.
"Just this project alone will make it easier for her to just get in and out of her house," says Roddie Shanley of Habitat for Humanity.
Habitat's new program "A Brush with Kindness" provides minor repairs for elderly, disabled, and low income homeowners.
It will be the preview for impact day on May 19th. Over 30 homes in the Tri-Cites will be renovated that day. Sponsors back the work which cost up to $2,000.00.
Volunteers come from churches, businesses, and students from Tri-Tech. "It makes me feel really good as a person using the skills I learned in this class to go out and help people that haven't had the fortunate up bringing as I had," explains student Zane Lund.
"I know I'm helping out the community and I just get more experience out of it and it feels great," adds student Evelyn Castillo.
If you need help, or want to offer your help contact Habitat for Humanity's Richland office by calling 943-5555 or visit their website http://www.habitatbuilds.com/.