Republican campaign visits wrap up before caucuses tomorrow
Posted:
Updated: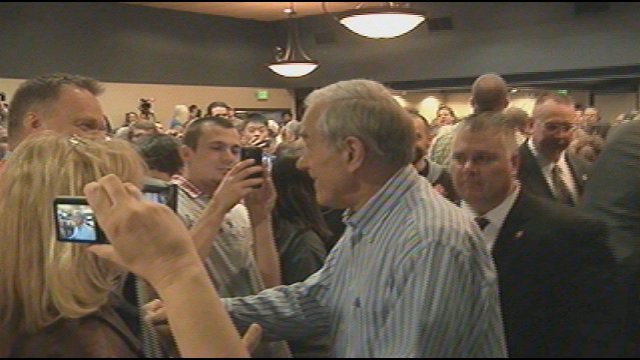 KENNEWICK, Wash.-- One campaign after another came to spread messages of why voters should put them in the White House. Attendance numbers were high with estimates of 1,000 people coming to see Ron Paul, 900 at Santorum, 550 at Gingrich, and 100 for Romney's son Josh.
Jim Anderson of Pasco didn't attend one of the events, but he thinks the campaign visits make people here feel like their vote is heard.

"I'm sure it was uplifting to the people that went there to think that you know maybe your vote does count. I guess that's what it all comes down to, is does your vote really count," said Anderson."

Candidates want those votes in a Republican nominee race that's lasting longer than expected with no clear winner. Ron Paul had the biggest turn out in town and has some very enthusiastic Tri-Cities followers.
It's an exciting time for Washington state Republicans to get to see candidates in person that normally wouldn't campaign here. Our state typically goes Democrat so local Republicans are enjoying the rare chance to feel like their vote really matters this time around. In the mad dash to claim the Republican nominee spot each vote truly does count. Even if in the general election Washington state goes blue, local Republicans know their votes are an important contribution to the Republican nominee selection.
Ron Paul was back in Washington state today speaking in Spokane. Tomorrow Washington voters will head to their caucus locations and choose which of the four candidates they want as the Republican nominee.

For more information on tomorrow's caucuses including locations and times click here.