Huge turnout for Benton and Franklin County Caucus
Posted:
Updated: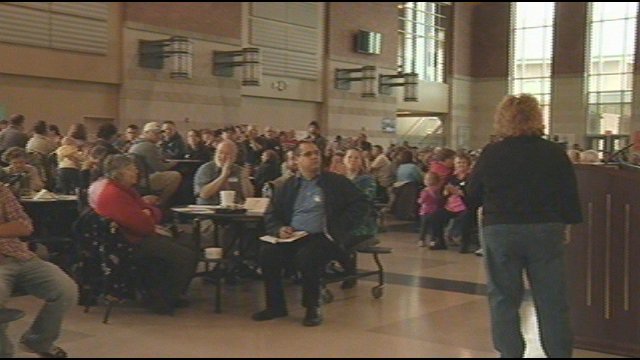 KENNEWICK, Wash. -- Thousands of Republican voters woke up bright and early Saturday morning to take part in Washington's caucus event.
There were huge turn outs at both Benton and Franklin Counties. Benton County Republican party organizers say they underestimated just how many people would want to participate today, and as a result many voters were turned away in Kennewick.
"There was about a thousand people in the lobby that we could not get in, There was simply not enough room here, and we had to start the process to allow people to participate, to do the straw poll to vote," said Tony Benegas with the Benton County Republican Party.
Benegas says, historically not that many people attend caucuses, and they expected maybe a thousand or two thousand to show up. Instead, three thousand people packed the Three Rivers Convention Center, and about 1,500 had to leave. Benegas says they had to stay on schedule.
"We're disappointed that we couldn't allow everyone in. We by law had to be done by a certain time. we had to start at a certain time. all the caucuses across Washington state had to start at certain time and end at a certain time," said Benegas.
Here are the results for Benton County: Mitt Romney took the lead with in 678 votes, Rick Santorum placed second with 391, Ron Paul third with 298 and Newt Gingrich with 191.
Franklin County ran smooth with about 650 showing up at Chiawana High School for the straw vote.
Here are the results for Franklin County: Mitt Romney took in 287 votes, Rick Santorum placed second with 196, Ron Paul third with 138 and Newt Gingrich with 69. Franklin County GOP Chair Curtis Mohr says this is five times the turnout they had last year.