5 hour stand off ends with Kennewick man removed by SWAT team
Posted:
Updated: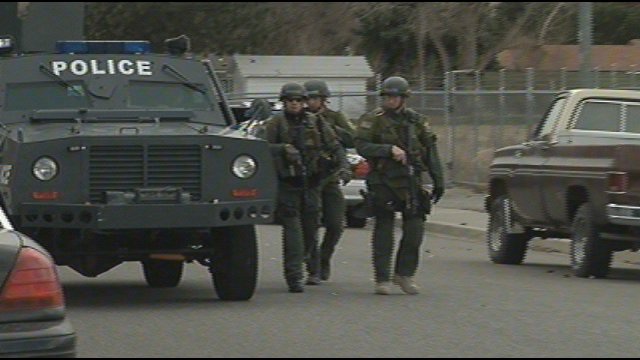 KENNEWICK, Wash. -- A tragic ending was avoided Monday afternoon after the Tri-Cities Regional SWAT team managed to get a man with a gun out of his home.
Kennewick Police took a call around 9:30 this morning from a woman worried about her husband, saying he fired a gun inside his apartment at North Irving Place.
After hours of repeated requests, he wouldn't come out. More than 50 members of law enforcement including the swat team assisted, breaking windows and shooting gas into the apartment.
Next door neighbors were evacuated. "I had seen the cops pull up earlier. So I knew something was going on. And I just waited for them to contact me before I left the building," said Richard Wilbricht, an evacuee.

Five hours into the standoff, SWAT finally managed to get into the apartment, using gas. Police say they found him locked inside a bathroom, and only then did they know he was alright..
"We don't know their mental state. If we just barge in there, they may point a gun at an officer or they may turn the gun on themselves. So its better in these cases to take our time, to try and negotiate, try and communicate, use things like the gas we put in there, try and coax the person out," says Kennewick Police Seargant Ken Lattin.
The 32 year old man was taken to the hospital to be evaluated. He had some self inflicted cuts, but nothing life threatening.
Police are reviewing possible charges. Lattin says at this point he's likely facing a charge for illegally discharging a weapon.