Lourdes Counseling Center has housing options for mentally ill patients
Posted:
Updated: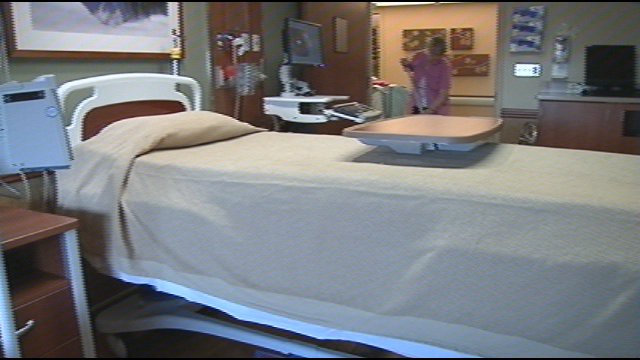 RICHLAND, Wash. -- It's no secret there's a growing waiting list at Eastern State hospital. It's also no secret that hospitals and jails are filled with people who don't always belong there. That's why Lourdes Counseling Center is trying a different approach..
Barbara Mead, the Vice President of Behavioral Health at LCC says, putting in more hospital beds for mentally ill patients is not the answer to the new increase in clients over the last few years.They have a total of 42 beds for people suffering from chronic/persistent mental illness that need housing in order to maintain placement in the community.
"Rather than build another bricks and mortar psychiatric hospital, we are seeing patients in the jail we are seeing patients that are homeless," says Mead.
LCC serves approximately 2000 medicaid adults each month who suffer from chronic and persistent mental illnesses; half of which need some form of housing support in order to maintain placement in the community.
Mead says when clients are placed outside of the community (i.e. jails, psychiatric inpatient units) or become homeless, patients' mental health will most often deteriorate. The down-stream effect is that the public will end up paying more for these patients in the long-run. Proper treatment and support benefits the patient, their families, and the community.
Lourdes is working on providing some of these patients with housing options. "This will help the patient stay out of the hospital, only come into the hospital when its absolutely necessary, and really focus on keeping that patient stable in the community," says Mead.
The Director of Outpatient Care at LCC, Tim Hoekstra says, one project is the Cullum House in Richland. It can hold and treat eight patients for three months. "Often times people will be coming out of the hospital. For example, they will go into that program as a transition back to the community. But after that three month as part of that transition, where do those clients go." Hoekstra says that's why LCC purchased several trailers at Sundance Home Park in East Pasco for their Supportive Living Program. The program helps 23 patients working on the transition.
"They can have up to 18 months of transitioning, building the skills necessary during the course of those 18 months to live independently," says Hoekstra.
But many of these patients can never fully live independently. That's where the Shelter Plus Care program comes in . Currently, there are 11 patients are living in homes. The rent is half paid for by the state and half by the tenants. It's a safe place to live while getting the counseling and treatment needed but still maintaining independence.