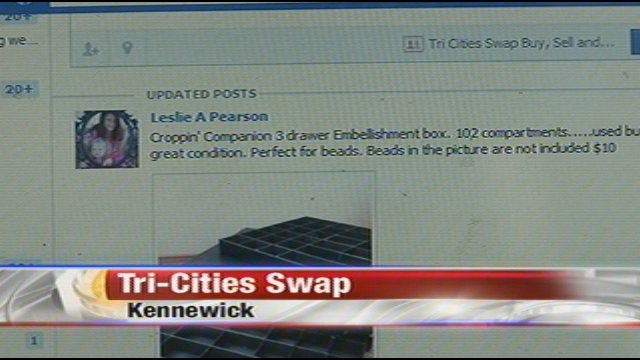 KENNEWICK, Wash. -- Ever Wanted to sell something around the house but didn't feel like organizing a yard sale? One Kennewick woman thought, why not use Facebook to sell, buy and trade things with people right here in your own community.
Meagan Scorola got the idea from a friend in Ellensburg. She started the Tri-Cities Swap; to trade, sell and swap your things on Facebook in January. The page now has more than 1,400 fans.
Scorola says people in the Tri-Cities can post pictures of what they want to sell with the price and then prospective buyers can send personal messages back and forth. She encourages them to not exchange phone numbers.
"People meet up and they exchange the money, I think it's a lot better than Craigslist, just because you can see the people's faces who you're buying from. It's less creepy, I think, " says Scorola.
Many times, she says people will post things they're looking to buy or simply get rid of for free, or ask for advice about things like wedding venues.
Scorola said she sold much of her furniture using Facebook and the trend caught on.
The service is free and anyone can post pictures. Scorola says she will take down commercial products like Mary Kay, Avon or Scentsy Candles.
To join the Facebook page, click here.