Distillers worry about I-1183 impact
Posted:
Updated: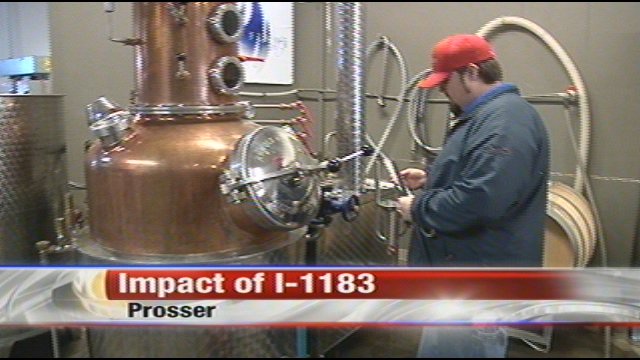 BENTON COUNTY, Wash. -- If there's a word to describe liquor sales and distribution in Washington right now, it would be confusion.
I - 1183 takes the state out of the liquor business, but lawsuits challenging the initiative have local distillers re-thinking their business plan.
The owner of Blue Flame Spirits in Prosser is busy. The distillery has been around for nearly two years, but when you look at this showroom, it doesn't look like it.
"We had to make a decision to change how we're going to sell our spirits," says Brian Morton, owner of Blue Flame Spirits.
The change means a total remodel of their showroom and distillery to make space for more product to be stored.
When voters approved Initiative 1183, it took the state out of the liquor business. It also took away a big customer for distillers like Blue Flame.
Now they have to sell to restaurants and stores. Since the measure passed, Morton says his business has lost around $100,000.00.
"Total state of chaos. Some people lost their ability to sell directly to the state, some people were right at that door step, getting ready to launch their business in the state. Counting on their business plan was that way," adds Morton.
Late last year two lawsuits were filed in Cowlitz County. Rulings will decide if the initiative was misleading by having a provision for funding for public safety.
The distillers knew how they would sell their liquor after 1183 passed. Now the lawsuits threaten those plans.
But what's clear is their bottom line is taking a hit.
"It's cut into our income a lot which kind of stopped producing as much and waiting to see what the distributors are going to want," says Joel Tefft of Black Herron Spirits in West Richland.
The Washington State Liquor Control Board says they plan to move ahead with closing down stores by June 1st.