Ceremony marks end for Umatilla Chemical Depot
Posted:
Updated: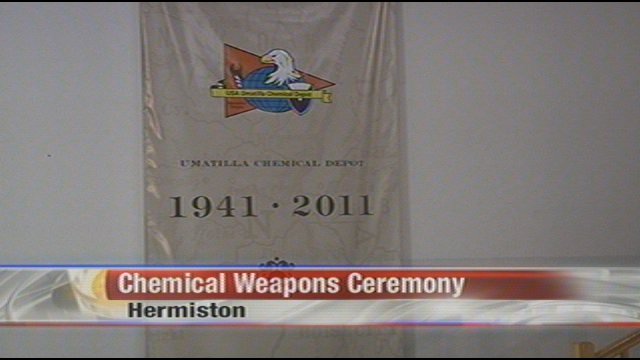 HERMISTON, ORE. -- The Umatilla Chemical Depot is officially history.
A ceremony in Hermiston Thursday night officially closed the door on years of work and cleanup done at the facility. The stockpile of chemical weapons have been a common sight at the depot for 50 years.
It was an emotional end to a chapter where the depot made an impact on many lives. The event was a military event open to the public where around 500 people filled the Hermiston Conference Center.
The public commemoration recognized the end of chemical demilitarization at the Umatilla Chemical Disposal Facility, as well as the destruction of all chemical weapons.
Some people like Hermiston City Councilman Frank Harkenrider shared fond memories of the military site. "Hermiston had a population of 804. Overnight, there was over 10,000 people. On West 11th, it used to be a dirt street, they were living in tents."
"It's been in the shadows of chemical weapons since 1962. Things like that it just incredible. It's a tribute to the workforce and also to the surrounding communities," explains Lt. Col. Kris Perkins, Commander of the Umatilla Chemical Depot.
The next step for the depot will be to turn the 20, 00 acre area over for public use. A portion of the land will be preserved for fish and wildlife habitat. Other portions will be set aside for economic development, including commercial and industrial use.