Live-fire training before deployment
Posted:
Updated: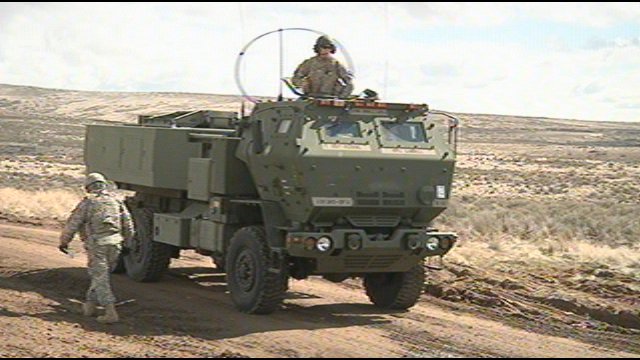 YAKIMA TRAINING CENTER, Wash.-- Soldiers from Joint Base Lewis-McChord have been at the Yakima Training center since last week training on artillery systems.
High-mobility artillery rocket systems also known as HIMARs, that's what soldiers from the 5th Battalion, 3rd Field Artillery Regiment, 17th Fires Brigade have been training on since last Saturday.
"The training is excellent. It's real world scenario training. It's what we're out here to do," said Spc. Jeff Liddell.
Soldiers are required to get yearly re-certification on all of their equipment, from their vehicles to their rifles.
And working with the HIMARs is just another aspect of that training.
"Gets the soldiers prepared, gets us all prepared for what's going to happen, what we need to know," said Spc. Liddell.
Each HIMARs truck carries three soldiers and can launch rockets and missiles from six to 150 miles, hitting targets accurately at all distances.

And training in these live fire scenarios is priceless experience because several hundred of these soldiers are actually getting ready for a deployment to Afghanistan.
"They've gone through everything from the individual level training that they've needed to do, to the section level training, to now this exercise which brings all of those parts and pieces together and allows them to exercise all of the capabilities that they have to have when they deploy," said Lt. Col. Joe Hilbert.
Two platoons, or a little over 200 of these soldiers will be deploying to Afghanistan between mid-May and mid-June, working with these rocket systems to provide further support to troops already on the ground.
And Lt. Col. Hilbert says his soldiers are ready to go.
"I'm very comfortable with where they're at training wise, that I can look at my commander and say, 'this unit is ready to deploy, these soldiers are trained, they're ready. They're ready to execute what they've been asked to do,'" said Lt. Col. Hilbert.