Americans announce 2012 first round playoff series
Posted:
Updated: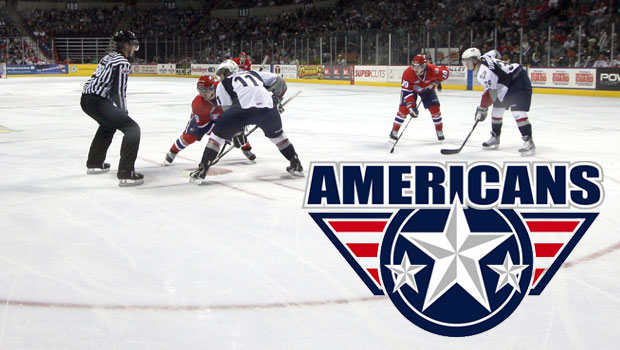 KENNEWICK, Wash. -- After wrapping up the 2011-12 regular season with a fourth division title in the last five years, the Tri-City Americans are pleased to announce their First Round schedule for the upcoming 2012 WHL Playoffs.
Tri-City will match-up with their U.S. Division rivals, the Everett Silvertips, in the opening round, best-of-seven series. It will be the first time since 2009 that the two sides have met in the post-season, when the Americans secured a 4 games to 1 series win to advance out of the opening round. The two sides also met in 2006, when Everett ousted the Americans 4 games to 1 in the first round. This season, Tri-City took the 8-game season series vs. the Silvertips 6-2.
Games 1 and 2 will be played at the Toyota Center in Kennewick, starting on Friday, March 23rd. Game times are 7:05 p.m. Fans are encouraged to check the Americans' website, www.amshockey.com, in the coming days for further playoff information. Tickets are on sale now through all Ticketmaster outlets, including the Toyota Center box office, all Fred Meyer outlets, or online at ticketmaster.com.
2012 WHL Playoffs – Western Conference Quarter-Finals
Game 1: Fri., March 23, Everett Silvertips at Tri-City Americans, 7:05 p.m. at Toyota Center
Game 2: Sat., March 24, Everett Silvertips at Tri-City Americans, 7:05 p.m. at Toyota Center
Game 3: Tue., March 27, Tri-City Americans at Everett Silvertips, 7:00 p.m. at Comcast Arena
Game 4: Wed., March 28, Tri-City Americans at Everett Silvertips, 7:00 p.m. at Comcast Arena
Game 5: Sat., March 31, Everett Silvertips at Tri-City Americans *If necessary
Game 6: Mon., April 2, Tri-City Americans at Everett Silvertips *If necessary
Game 7: Wed., April 4, Everett Silvertips at Tri-City Americans *If necessary