Lawmakers sign WaKIDS bill to improve early education
Posted:
Updated: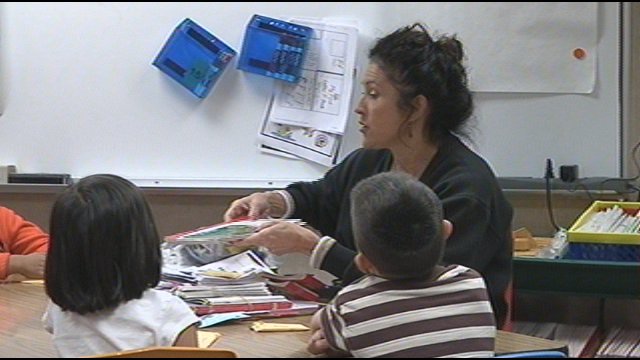 KENNEWICK, Wash. -- Lawmakers in Olympia signed a new bill into law they hope will change education at an early age.
WaKIDS brings families, teachers and early learning providers together to support children's learning and transition into public schools. Each child is assessed for their social/emotional, cognitive, language/literacy and physical development in the classroom.
It's way to prepare children for kindergarten through good communication and skill assessment. Eastgate elementary has been part of the pilot program for the last two years.
"I think there's good and bad. I think its great to have that communication with the early learning providers. I think it would be really good for us to have those meetings with our kindergarten teachers and the pre school providers so that we're all sharing information and setting up the student for success in kindergarten. I think it will also be time consuming to collect the data. " says Niki Arnold-Smith the Principal at Eastgate Elementary.
@
WaKIDS began as a voluntary pilot program for the 2010-11 school year. Beginning in the 2012-13 school year, WaKIDS must be administered to all students enrolled in state-funded full-day kindergarten programs with the exception of students who have been excused from participation by their parents or guardians.
WaKIDS must be implemented statewide in full-day kindergarten by 2017-18. The goal is to move up statewide implementation to 2014-15 and assess all kindergartners - a requirement under Washington's Race to the Top-Early Learning Challenge grant award.
The Legislature intends for WaKIDS to replace other assessments unless those assessments pertain to information that is not covered by WaKIDS.
Until statewide implementation of full-day kindergarten, school districts can be granted annual, renewable waivers from the requirement to administer WaKIDS if comparable information is provided.
The new law establishes a WaKIDS workgroup including the Office of Superintendent of Public Instruction, the Department of Early Learning, teachers, principals, parents, and designated partners. The workgroup will provide input and recommendations with respect to: implementing WaKIDS; the best way to administer WaKIDS to children in half-day kindergarten programs while ensuring they receive the maximum instruction as required by law; and achieving the goal of replacing assessments currently required by school districts with WaKIDS.
A preliminary report and recommendations are due to the Legislature Dec. 1, 2012 and annually by Dec. 1st thereafter.