Yakima County gang assessment completed
Posted:
Updated: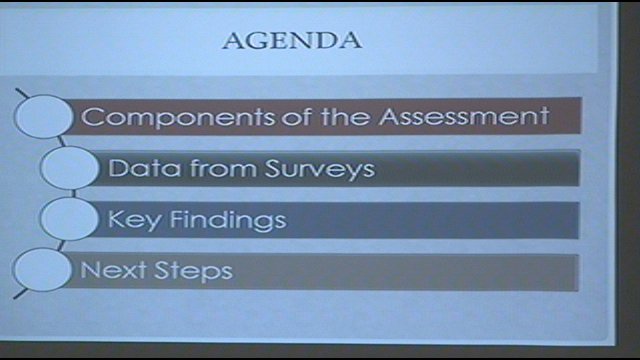 SELAH, Wash. -- The Yakima County Gang Commission reviewed the 2012 Gang Assessment report at their meeting Tuesday afternoon in Selah.
The Gang Assessment report includes data collected from the Yakima County Local Indicators for Excellence (YC-LIFE), under guidance of the Office of Juvenile Justice and Delinquency Prevention, or OJJDP, Comprehensive Gang Assessment model. During the assessment process, surveys were conducted to target audiences; included were 38 gang members, 58 parents of gang members and 4,440 students.
According to the 2012 report, "Yakima County has a high rate of at-risk youth and multiple risk factors for gang involvement including a culture of poverty which is magnified by single parenting, low adult educational attainment, and high seasonal unemployment rates. The presence of these factors varies widely amongst communities within the county."
The report also states, "Yakima county has a high at-risk youth with multiple risk factors for gang involvement including higher rates of school failure, a high teen birth rate, suicide and suicide attempts, depression, illegal drug use, alcohol use, and low neighborhood attachment. Students also report feeling less safe in school."
According to the report, approximately 86,000 or 35.7 percent of all residents in Yakima County are under 21 years old. More than half live in Granger, with a third in Yakima.
YC-LIFE conducted several surveys to 73 community leaders and 524 community members. When asked about their dissatisfaction with the current response to gangs; 64 percent of the community leaders said they were dissatisfied, while 76 percent of community members said they were dissatisfied.
When asked about the number one cause of gang problems, those outside of gangs who were surveyed said family and friends were the cause, while gang members said they blamed the problem on poverty.
Gang member surveys were conducted to youth in the Yakima County Juvenile Justice Detention Center in October 2011.
Also brought up during the meeting, was an update on House Bill 2535 to create a juvenile gang court statewide. The bill was recently passed by the House and Senate.
State representative Norm Johnson, R-WA 14th District, one of the co-sponsors for HB 2535, is hopeful the bill will be signed by the governor.
"This certainly has no impact on the budget, so it should be signed," Rep. Johnson said.
Johnson explained how the bill is a 'positive step' toward finding ways to solving the gang problem. "It puts in statute what Yakima County is currently doing, and it will allow other counties to institute a gang court."
Under the bill, only those who qualified would be accepted into the court program. Those who have previously been convicted of a serious violent offense or class A felony offense, or a sex offense would not be accepted in the court program.
Upon completion of gang court, juvenile offenders would have their charges dismissed. A juvenile offender would only be admitted to gang court once.
Yakima County court administrator Harold Delia, who was at Tuesday's meeting, announced the county was recently awarded a $69,363 federal grant. Delia expects to receive the money by April.
Portions of the grant will go towards hiring a project coordinator and consultant to help with gang intervention planning for the City of Yakima, Sunnyside and Toppenish. Approximately $30,000 will be used to support direct services to each program site.
Delia says the grant money will be used to allow the cities to develop their own Gang Free Initiative, also known was GFI.
"We're going to use this money that we're getting now, to leverage a $1.5 million federal grant that's coming out this week," Delia explained.
The proposed grant would be $1.5 million per year for three years, and would be used for a Comprehensive Gang Initiative.
The Yakima County Gang Commission is made up of representatives from the City of Grandview, Granger, Harrah, Mabton, Moxee, Naches, Selah, Sunnyside, Tieton, Toppenish, Union Gap, Wapato, Yakima, Zillah, Yakama Nation, Yakima County Board of Commissioners, Yakima County Superior Court, Yakima County Prosecutor's Office and the Yakima County Sheriff's Office.
The Educational School District 105 helped in planning and coordinating information for the assessment by assisting in over 5,000 surveys across the County.
For more information on gang prevention programs and surveys, visit the "Yakima County Say No to Gangs" web site by clicking here.