Marriage Equality opposition gathering signatures
Posted:
Updated: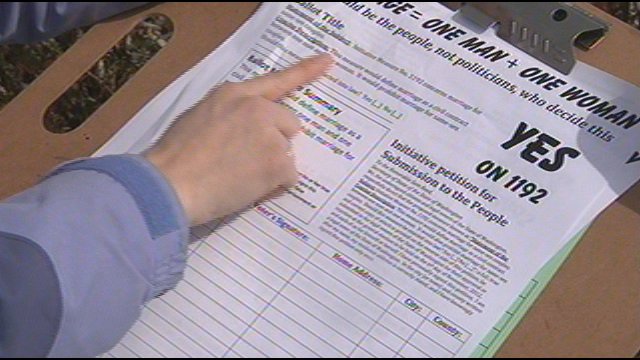 KENNEWICK, Wash. -- "Regardless of how you feel on this measure, we really need to get it to the voters for this November. And give the voters in the state of Washington to weigh in with their opinion and not just 25 legislators," says Anne Berkey, who has been working hard alongside 15 other volunteers to gather signatures for Referendum 74 and Initiative 1192.
Referendum 74 needs 150,000 signatures by June 9th. If enough are gathered, voters will decide in November if they want marriage equality in Washington. Initiative -1192 needs more than 240,000 signatures by July 6th to get on the ballot. If passed, it would re-define marriage in Washington as that between one man and one woman.
Preserve Marriage Washington set up a website, and a list of hosts you can contact to get the documents to sign. Anne Burt, a substitute teacher, agreed to do it out of her Kennewick home. "What spurred me on to do this is because of my religious belief and my belief in family," says Burt.
Pastor Dan Keller with Island View Worship Center in Richland was one of the people in Olympia to get the referendum off the ground. "There's probably about a thousand a day, coming, in signatures from all over the state," says Keller.
Berkey says she is already well on her way. "we were here at the GOP caucus. and we will be at the conventions in Franklin and Benton county also to get the word out." The Franklin County Convention is this Saturday at Chiawauana High School in Pasco. Then the Benton County GOP at the Three Rivers Convention on April 7th. Berkey will also be at the TRI-Cities TEA Party rally on April 14th.
For more information on where to go, click here.