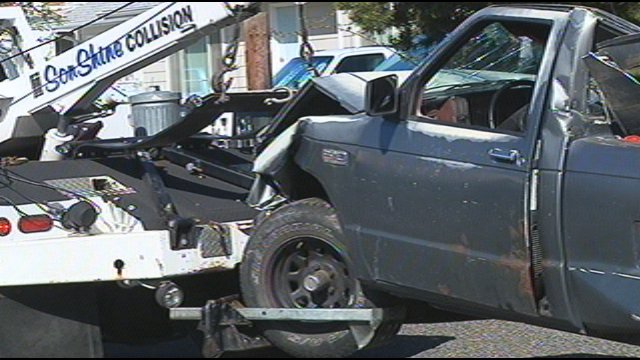 KENNEWICK, Wash.—A Kennewick couple is cleaning up the mess left behind after a distracted driver slammed into their house Wednesday morning.
Kennewick Police say around 9:30am Wednesday 33-year-old Jeremy Kirkendall of Kennewick was in a stolen truck when he went off the road on the corner of 45th and Garfield in Kennewick. He then hit a ditch, skid toward the house, and flipped up against the side of the home.
"We heard this kind of thud," says Kathye Kilgore, homeowner.
"And the house shook and I'm going that doesn't sound like somebody just dropping something," says Robert Kilgore, homeowner.
"I said what the heck was that," says Kathye Kilgore, homeowner.
Fortunately, no one was injured. After crashing, the driver ran. A witness saw Kirkendall and gave police a description. He was arrested and charged with possession of stolen property.
The Kilgores now have about $6,000 worth of damage.
"So if you think the what if... I don't even want to go there. Thank god I was cleaning the inside of my house and not the outside," says Kathye Kilgore, homeowner.