Flying lessons take off in Yakima
Posted:
Updated: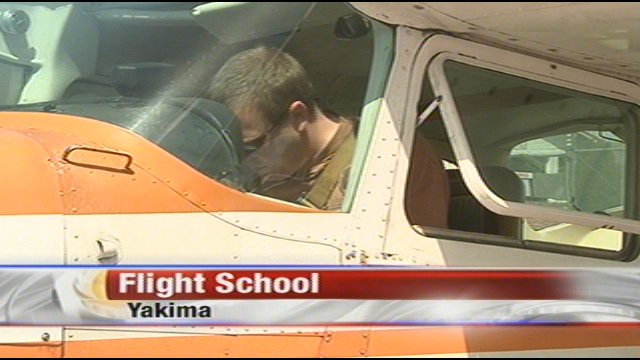 YAKIMA, Wash. -- Warm temperatures mean many people are out on their boats, driving with their windows down, and for some it means learning to fly airplanes.
Brad Niebuhr and his wife arrived to the McAllister Museum of Aviation parking lot on Sunday. The two jumped into a Cessna plane, one of three aircrafts owned by the Yakima Aero Club.
It was not long ago, Niebuhr was just a student pilot under the supervision of flight instructor Rich Bates.
"Up until last summer when I started flying with Rich, started my private pilot's classes," says Niebuhr.
Niebuhr spent about six months learning the 'in's and out's' of flying.
Although it's a lot of fun, the classes do involve quite a bit of studying and extra time.
"Flying a plane is definitely the easy part. There is a lot of book work, but definitely flying a plane and getting your solo where you're flying the plane without an instructor that's the fun part," says Kris Sieling, former student of Bates.
Bates has been an independent flight instructor for about five years. He's helped several people learn how to fly.
"The very first flight is showing them the controls, and what moves what and how we steer the plane. Then we turn you loose and that's called the solo," explains Bates.
Bates is a member of the Yakima Aero Club, a nonprofit organization with about fifty members who are pilots.
"Most people get the first one, we call it a private pilots license. It allows you to go pretty much where ever you want," explains Bates.
The classes are one-on-one and can be set to work around an individual's schedule.
"It's been awhile since I've been up with him, but it's been great. Rich is a very mellow and friendly guy to get along with," shares Sieling.
Bates says he's had more men sign up for his lessons than women, but hopes more women will want to learn how to fly.
"I've had retired guys that do this, and I even got a guy that drives down from Ellensburg for it. My newest pilot that graduated was a gal and she just went up to Alaska. She's going to try some flying up there," says Bates.
Bates offers training in both recreational and private pilot certifications. For more information about his Learn to Fly classes, visit www.yakimaflighttraining.com.