Grand Prix Hydroplanes, Other Race Boats to Test on the Columbia May 12
Posted:
Updated: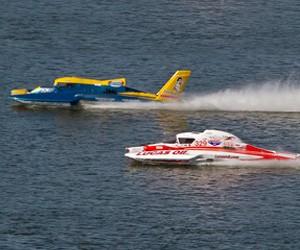 By Kathy Powell, Tri-City Water Follies
Roostertails will fly and engine noise will fill the Lampson Pits this Saturday, May 12 when Grand Prix and 1 liter hydroplanes, as well as a smaller "flat bottom" boat, will be in the Tri-Cities to test their boats for the upcoming season.
The Columbia River testing will give race fans the chance to see some other classes of boats besides the familiar unlimiteds. In the case of the Grand Prix boats, only close followers of the sport will notice the difference between those boats and the unlimiteds. Nearly everyone, however, will notice that the Grand Prix's are much louder than the unlimiteds, due to their automotive engines, which "growl," where turbines (which power the unlimiteds) "purr".
The 1-litre and flat-bottom boats are much smaller than the unlimited and Grand Prix boats, but are just as fun to watch, reaching speeds of 110mph.
Testing will begin at 10:00AM and go until 4:00PM. There is no charge to attend.
NOTE: The Tri-Cities Water Follies would like to remind boaters to use caution around the race course and avoid interfering with any operations associated with the testing.
The 2012 Tri-City Water Follies Lamb Weston Columbia Cup will be held July 27 – 29. Log on to www.waterfollies.com for more information about the Lamb Weston Columbia Cup, HAPO Community Credit Union Over the River Air Show, the Plumbers and Steamfitters UA Local 598 Grand Prix West Regatta and the Legends Casino, Legends of Thunder Vintage Hydroplanes.