Degree Men and Peters & May Teams Will Churn up Columbia in Pre-Season Test
Posted:
Updated: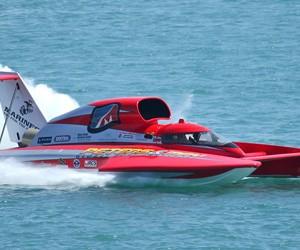 By Jim Simpson, USA Racing Partners
Kennewick, WA May 14, 2012 - Two H1 Unlimited Air National Guard Series Hydroplanes will be conducting extensive test runs on the Columbia River. The 88 Degree Men® and the U-11 Peters & May boats are due to start testing sessions at 10 AM on May 18, off the shores of Columbia Park. The public is encouraged to visit the Lampson Pits area for a rare opportunity to see these 6,000 lb, 3000 HP machines up close.
Drivers Scott Liddycoat and JW Myers will be in the Tri Cities on May 17 doing personal appearances while the boat teams prepare their equipment for the high speed shake-down laps. The teams will be collecting valuable data and refining component combinations prior to the H1 Unlimited Air National Guard Series kick off in Madison, Indiana on July 6-8.
This will be the first time on the water for USA Racing Partners' 88 Degree Men® hydro since the team's hiatus from the sport 3 years ago, and they will be demonstrating more than just hydro hardware. Liddycoat is looking forward to getting the best from the Degree Men® Adrenaline Series new Motion Sense® technology while charging around the Columbia River course at speeds near 200 MPH.
The U-11 Peters & May team, along with scrutinizing changes made to the boat this winter will be testing a new GPS program for the H1 Air National Guard Hydroplane Series. The U-11 along with Craig Kairis of GPS Flight has been developing the new program since late in the 2011 season to get the boats back to the exciting fight for lanes before the start of the race. This new technology will be used to track the boats' speed on the race course. The idea behind the GPS program and a minimum speed is to keep the boats from driving up to the starting line at 5mph and parking until the start flag drops. H1 will track the boats in real time and bring back the popular and thrilling fight for lanes during the run-up to the race. This is exciting new technology for the H1 Air National Guard Hydroplane Series and Peters & May is very eager to help test this system for the advancement of the sport.
The Tri-Cities Water Follies would like to remind boaters to use caution around the race course and avoid interfering with any operations associated with the testing.
The 2012 Tri-City Water Follies Lamb Weston Columbia Cup will be held July 27 – 29. Log on to www.waterfollies.com for more information about the Lamb Weston Columbia Cup.