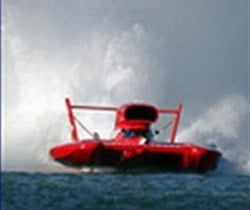 KENNEWICK, Wash. -- H1 Unlimited hydroplanes have arrived. Thursday the Degree Men and Peters & May teams started their testing on the Columbia River for the H1 Unlimited Air National Guard Series. The U-88 of Scott Liddycoat the and U-11 of JW Myers rolled up to the Lampson Pits. Both teams will be there through Friday. They say they are excited to be back to the river by the Blue Bridge for the first time since last year's Lamb Weston Columbia Cup.
"Yeah, first time back. Actually I'm glad to be back here because I felt like this was my worst race of the year last year. So I'm looking forward to getting an extra couple of laps out there tomorrow," Liddycoat said.
"You know we're really excited about going testing. We did a lot of work on the Peters & May boat over the winter. We've got a few things that we've tried that are a little different, and just work the bugs out. The sooner we get things sorted out, the better for the beginning of the season," Myers added.