Construction hurting Umatilla store
Posted:
Updated: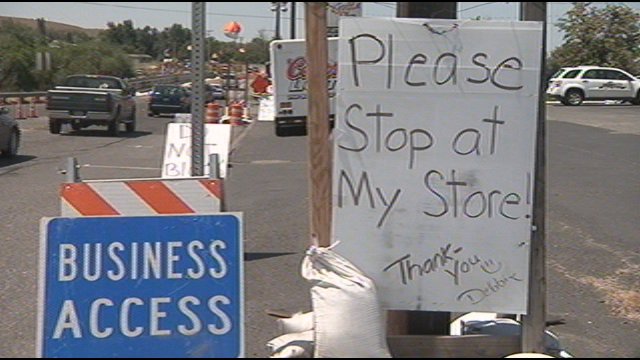 UMATILLA, Ore.-- Road construction near a Umatilla convenience store is making it hard for customers to stop and shop there and worrying the owner that she'll have to close her doors forever.
Debbie Ross owns the Abel's Gotta Stop store right next to the Umatilla Bridge. Construction on that bridge is creating a traffic back-up that blocks people from getting to her store. The construction has only been going on for a month and a half, but Debbie says she's on the brink of shutting down.
Despite Debbie Ross's many efforts to keep her store's driveways open, cars block them every day. Construction has cut traffic to one lane on the Umatilla Bridge and every time the flagger's stop sign goes up, the cars get backed up on her side of the bridge. The blocking the entry to her store. The construction blocks entry to her store and also truck parking, which is some of her biggest business.
"Solid ten thousand dollars down because we're just not getting the truckers. And it's not as if they don't want to stop. They cannot. There are no stops for them to stop anymore and we really count on our graveyard traffic. It's not there anymore," says Ross.
She says if it continues at this rate for another month then she'll have to close the store. It leaves her asking one question.
"What's it going to be like waking up and not having your store?" says Ross.
There are locals standing behind her and trying to do their part. Carol Clements says she knows the importance of local businesses.
"If you don't support the community, there's nothing left here. I like this small town. I like my kids growing up here. It's a good little town," says Clements.
Since Ross moved to Umatilla ten years ago, she's learned just how supportive the town can be.
"I thought it was a little one horse town. And what do these people do here? I know what they do now. They care. They go fishing and hunting. They care for their families. They're very caring people here and they have cared for my store in that way too. And they don't want to see it gone," says Ross.
Ross isn't upset with the construction work. She's just hopeful it doesn't force her to hit the road. Construction on the Umatilla Bridge is anticipated to last through November and there could be flaggers stationed there twenty-four hours a day till July.