Vietnam War vets reunite after 43 years
Posted:
Updated: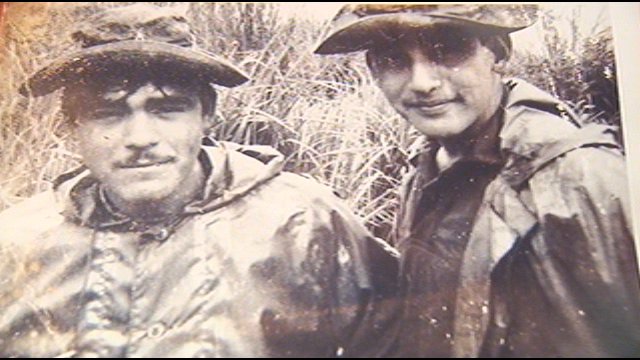 YAKIMA, Wash. -- This year's Memorial Day event at Sarg Hubbard Park was a special one for two veterans who served together in the Vietnam War.
Jesse Villanueva and Marcelino Anguiano haven't seen each other in 43 years.
M/Sgt Anguiano, USMC Retired who is currently living in Texas, was Villanueva's unit leader during the war.
"Called him (Anguiano) to wish him a happy New Year, and I asked him if he would like to be the speaker at this year's memorial," Villanueva said.
The two shared their first phone conversation about a year ago, after a fellow marine helped to track down both men.
"And he said well how would you like to come up here and be a guest speaker for our Memorial Day celebration? And I said 'well sure.' I'd be honored," Anguiano explained.
The last time the men saw each other was when Anguiano was being carried off by a medevac, after being shot by artillery fire.
"At that time I thought he just injured his arm and the back of his head. Well, I didn't know he got shot in the back of his legs," Villanueva said.
Their unit had come under heavy fire.
"And I started running and all of a sudden, I felt pain in the back of my legs and I had gotten shot with an AK-47 in both of my legs," Anguiano said.
Nine other people were wounded in their unit.
"And right then and there, I just collapsed and the only thing I could remember after that is waking up in the bunker and Jesse is there, you know, over me and there is a whole bunch of wounded marines there," Anguiano explained.
Villanueva waited by his leader's side until help arrived.
"You can't leave me now," Villanueva jokingly said. "He realized that he was not going to stay, and I knew he wasn't."
Villanueva was at first reluctant to take over as the leader, because he says he didn't want the responsibility.
"To get out there and do what I was doing and he's looking at me and saying, 'I don't want to' I need you to go out there and he said 'no.' I said I can't go no where. I can't move," Anguiano said.

The two officially met for the first time when Villanueva picked up Anguiano from the SeaTac Airport over the weekend. Now that the two are reunited, they feel as if it were yesterday.
"I'm proud not only to be a marine, I'm proud to be his friend, and to be a comrade. Like I said, to be his friend," Anguiano said.