Barr's slam stuns Sweets
Posted:
Updated: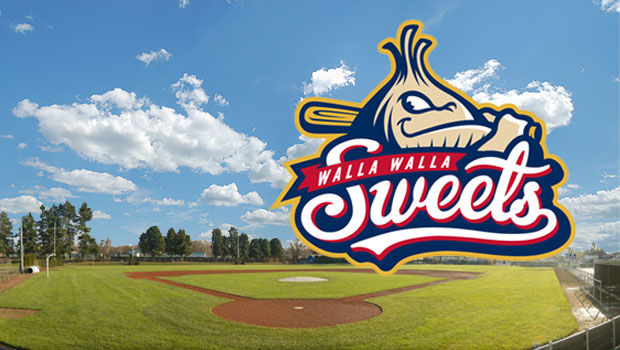 By Walla Walla Sweets
WALLA WALLA, Wash. – One pitch is all it takes sometimes. On Friday, it was exactly that as Austin Barr hit a grand slam on a 1-2 curveball in the eighth inning to send Corvallis to a 6-4 victory over the Sweets on Opening Day at Borleske Stadium.
Trailing 4-2 in the top of the eighth, the Knights (1-0) loaded the bases with no outs against reliever Zach Brandon. Nate Blackham reached on an error to start the inning, Matt Nylen walked and Caleb Whalen reached on a bunt single to load the bases. Garrett Tygerson entered and struck out Beau Fraser and had Barr behind in the count, but Barr was waiting on the curveball and hit into the trees in left field.
The Sweets (0-1) started the scoring in the second inning on a double play ground out but were trailing 2-1 in the bottom of the fifth when they rallied for three runs without the benefit of a hit. Jarrod Turner walked to start the inning, Kalani Brackenridge was hit by a pitch and Brett Jacobs walked to load the bases. That ended Aaron Corwin's evening and reliever Rob Dittrick didn't start much better, walking Chance Kopacz and Spencer O'Neil to force in two runs. Ben Ruff then flew out to center to make it 4-2 and that was all the Sweets would muster.
Dittrick settled down to allow just two hits over 3 2/3 scoreless innings of relief to earn the win. A.J. Burke pitched a scoreless ninth to earn his first save of the summer.
Walla Walla had chances to score during the game but left seven runners on in the four middle innings. Alex Bonczyk walked and Jacobs singled with two outs in the third but were left stranded, Kalani Brackenridge and Bonczyk were both stranded after two-out singles in the sixth.
On the mound, the Sweets got a strong start from Tyler Roberts. The right-hander from Campbellsville retired the first nine batters he faced before hitting trouble in the fourth. A leadoff bunt single ended with the runner at third thanks to an infield error and Blackham and Nylen followed with RBI hits to give the Knights the 2-1 lead. Roberts got three consecutive ground outs to end the inning and then worked around a pair of walks to end the fifth.
Prior to the eighth, Brandon had thrown well in relief. He left runners on the corners with back-to-back strikeouts in the sixth and tossed a 1-2-3 seventh thanks to a marvelous diving catch from Brackenridge at second. All four runs that came across in the eighth were unearned runs. At the plate, Bonczyk led the Sweets with two hits at the plate and O'Neil added a hit, run and an RBI.