Renting tubes to float the Yakima River
Posted:
Updated: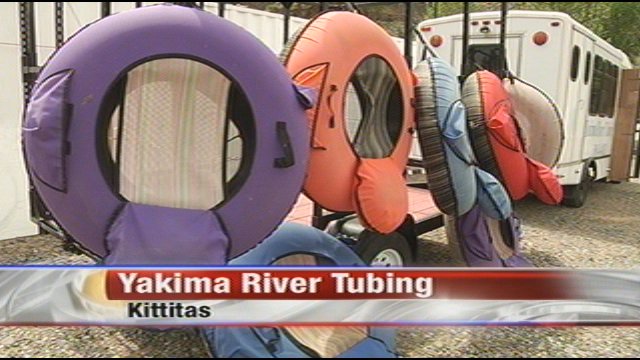 KITTITAS, Wash. -- As the temperatures start warming up, more people will be out floating the Yakima River.
Yakima River Tubing is located off of Canyon Road, next to the Umtanum Recreation Area.
Owner Steph Thomas, a retired firefighter from Alaska, has been running a tube rental business for about three years.
For people not familiar with its location, the entrance to the facility can be tough to find.
"Our spot is a little difficult because we only have one access to this property. It's private property. So there is one gateway that's hard to find, but we try to put some signage out that you can see," Thomas explained.
The private property sits on about 33 acres, providing plenty of space for those renting tubes who are interested in camping out overnight.
"If you tube with us and you have of course a waiver and liability insurance, then you can camp free here and you can park free. It's a pretty rustic camping. And it's a first come, first served type of camping," he said.
They have tubes and life jackets available for kids, adults and even for dogs.
"One lady out of Yakima actually comes and she has her little doggie. She comes a half dozen times every summer. She's an elderly lady and she put the little dog in her lap and there she goes," Thomas said.
This time of year, he says it's about a two hour float down an eight-mile stretch of the river.
"The people I had yesterday, took two hours and ten minutes, that's because the river is up pretty high and it's really fast. But normally in August it'll be maybe a four hour trip," he explained.
A shuttle will pick up the tubers down at the Roza Recreation Area.
Right now, Thomas says Yakima River Tubing is only open Friday through Sunday from 10 a.m. until 3 p.m., but they'll be open all week long starting June 22.
Thomas says the water temperature is around 45 degrees, but it hasn't stopped people from tubing. He says by July and August it'll warm up to around 75 degrees. He expects there will be around 300 tubers on most Saturdays in the summer time.
He recommends making reservations for you and/or your group ahead of time. To read more about tubing and rates, click here, for the Let's Go Tubing website (Yakima River Tubing will take you to the Let's Go Tubing page).