Burbank celebrates new highway safety improvements
Posted:
Updated: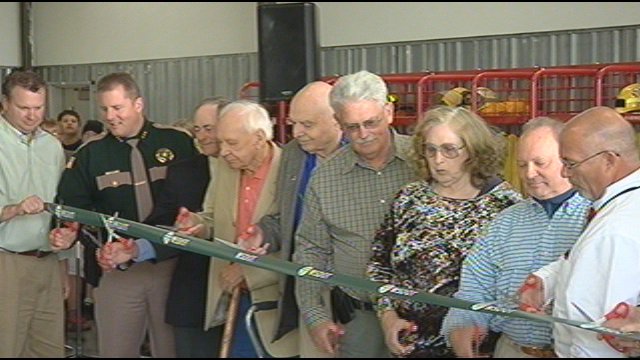 BURBANK, Wash. -- WSDOT, lawmakers and residents of Walla Walla and Burbank celebrated the completion of several work projects along Highway US 12 with a ribbon cutting ceremony Wednesday afternoon.
The highway safety project is expected to reduce collisions and improve traffic flow on US 12, State Route 124 and Humorist Road.
State Sen. Mike Hewitt, state Rep. Terry Nealy and Jim Kuntz, Port of Walla Walla executive director, joined highway department executives to celebrate the safety benefits of the newly completed interchange and overpass.
The $21.3 million safety improvement project reduces the risks of collisions in an area with a long history of serious injuries and fatalities - 56 injury collisions, six fatalities in the past 12 years.
Walla Walla Deputy Mike Estes was killed in 2007 while responding to a 911 call. His family was also a big part of the ceremony. "His death helped move along other people not die or get injured. So its positive I guess for others," said JoAnn Murphy, Estes' niece.
"Thanks go to Sen. Mike Hewitt for making the tough vote for the gas tax and fighting to bring this project to our community," said State Rep. Terry Nealy.
"It took a lot of partners a long time to get this project funded," said Don Whitehouse, Washington State Department of Transportation regional administrator. "We also had a great partnership between Selland Construction and WSDOT to get a quality product that will serve this community for a long, long time to come."
Since opening to traffic in May, the new interchange and overpass bridges have allowed traffic on SR 124 and Humorist Road to safely cross over the 60 mph traffic on US 12. Also, two new roundabouts will circulate traffic quickly and safely without the use of stop signs at two new intersections.
WSDOT and contractor, Selland Construction, worked the past 15 months building the new interchange at US 12/SR 124 and a new overpass at US 12/Humorist Road for the 16,000 drivers who use these state highways each day.
Local street improvements including a new entrance to Hood Park, an extension of Jantz Road and a new roundabout on Fifth Street, will improve traffic flow within the town of Burbank as well as access to US 12, SR 124 and Humorist Road.
This project was funded by the 2005 gas tax approved by the Legislature.