Two Ellensburg men rescued from Yakima River
Posted:
Updated: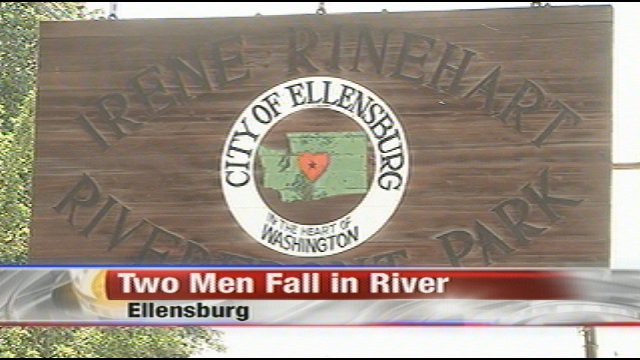 ELLENSBURG, Wash. -- Two Central Washington University students are counting their blessings after their canoe overturned and sent them into the Yakima River.
It happened around 2 p.m. Friday, near the Irene Rinehart Riverfront Park in Ellensburg.
Stephen Mutch and his friend Tanner Wilkin decided to take their canoe down the Yakima River.
"I've never been at a point where I actually had to confront my own mortality. You know, being held under the water there. It was a stupid idea from the get go. Taking the canoe out there. We didn't realize the current was so swift," Mutch said in a phone interview with KNDO on Saturday.
Mutch says he was thinking of giving up because he was just too exhausted, but then he says he was saved by a falling tree.
"A huge tree, about 80-feet long and 12-inches in diameter fell across the river. I was able to get up on the end of that tree and the end of the branches, and hang on for dear life. There's no other way to describe it, but a miraculous work of the Lord in that situation," Mutch explained.
However, his friend Wilkin was not able to grab onto the tree and went underneath, just missing his head.
Like Mutch, Wilkin had contemplated of giving up from exhaustion.
"I still could not stand up however the, current was too fast and I was too weak. I used my hands and my feet to keep pushing against the bottom of the river and nudge my self closer to the shore. At this point I saw a group of people standing on the shore and I yelled at the repeatedly for help. They told me to grab on to a log close by which I was able to do," Wilkin wrote in a letter he sent to KNDO.
Wilkin explains how a young couple saw what was happening and came out to the edge of the river and dragged him into shore.
"Stephen is not as good of a swimmer as I am and he was closer to the center of the river and I know that had that tree not fallen, and had he not been able to grab on to it, he would not be alive," Wilkin wrote.
Both men are doing just fine now.
Mutch explains they both had life jackets with them in the canoe, but the two were not wearing them at the time of the incident.
"My utmost thanks goes out to those people who were there to rescue us from the river and most importantly to God who provided the tree and sent the people," Wilkin added in his letter.

Kittitas County Sheriff's Office, the Ellensburg Police Department, along with other agencies helped in Saturday's rescue efforts.