Tri-City rally falls short in 5-3 loss
Posted:
Updated: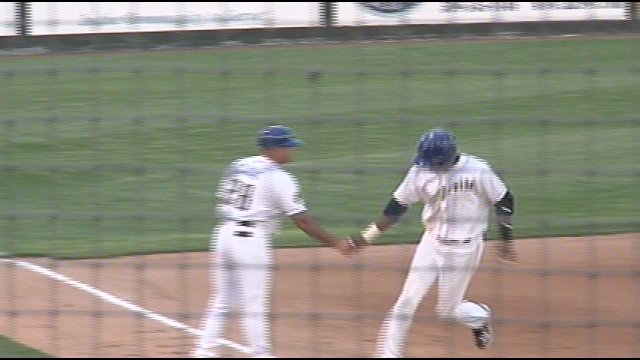 PASCO, Wash. -- A late-inning rally by the Tri-City Dust Devils wasn't enough to secure their first win of the 2012 season as they lost to the visiting Everett AquaSox, 5-3, Saturday night at Gesa Stadium. An eighth-inning run-scoring base hit by Dust Devils' catcher Michael Ramirez tied the game at 3, but the AquaSox replied with a rally of their own in the ninth to earn the win.
Tri-City (0-2) starter Josh Slaats struggled in his first start of the season, allowing two runs on four hits and two walks while striking out two in two innings of work. Relievers Chris Dennis and Eric Federico came in for the Dust Devils following Slaats and did well to slow down the AquaSox offense. The duo combined to throw six innings, in which they allowed one run on three hits while striking out four. Tri-City right-hander Taylor Reid (0-1) was tagged with the loss in his first appearance of the season, allowing two runs on three hits.
Everett (2-0) starting pitcher Mayekol Guaipe followed Victor Sanchez's quality start last night with a quality start of his own, allowing one run on five hits while striking out three and walking two in his six innings on the mound. AquaSox reliever Marcos Reyna then came in and allowed two runs on three hits over 1 2/3 innings of work. Righty Mario De Jesus (1-0) came in for the final 1 1/3 innings, in which he didn't allow a run or a hit, en route to his first win of the season.
Dust Devils' second baseman Yafistel Roja and outfielder Francisco Sosa starred at the plate, each going 3-for-4 on the night in front of 2,623 in attendance at Gesa Stadium. Sosa was joined by Ramirez and first baseman Jordan Ribera with one run driven in apiece.
Game three of five between the Dust Devils and AquaSox is Sunday night as Tri-City looks to turn the series around. First pitch will be at 7:15 p.m. as Dust Devils' righty Ben Hughes faces off with AquaSox right-hander Dylan Unsworth. Sunday night's game will also feature a Dust Devils Window Cling giveaway thanks to Lourdes Health Network.