Dust Devils earn first win of the season, 3-1
Posted:
Updated: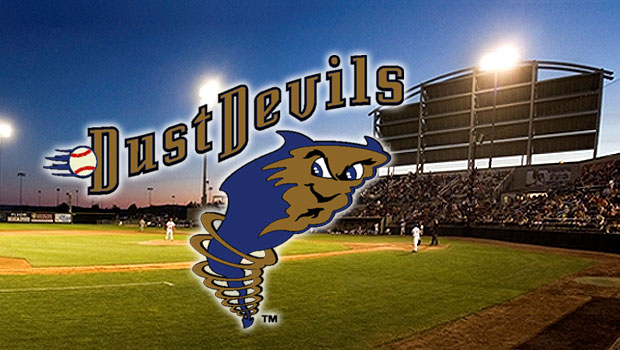 PASCO, Wash. -- When the Tri-City Dust Devils rallied for the second consecutive night on Sunday, they made sure it didn't go to waste and earned their first win of the 2012 season. A two-run seventh inning propelled the Dust Devils to a 3-1 win over the Everett AquaSox in front of 1,987 fans enjoying Father's Day at Gesa Stadium.
Dust Devils (1-2) starting pitcher Ben Hughes pitched well in his 2012 debut, allowing one run on one hit over six innings. The six-foot-five-inch righty looked sharp, striking out five and walking two, with the lone AquaSox run coming off of a Chris Taylor solo home run in the fourth inning. Southpaw reliever Brook Hart (1-0) came in for his first appearance of the season, working two shutout innings while earning his first win. Right-hander Will Rankin (Sv, 1) closed the game out in the ninth, not allowing a hit and earning his and the Dust Devils' first save of the season.
AquaSox (2-1) starter Dylan Unsworth matched Hughes throughout his first outing of the season, allowing one run on four hits in six innings of work. Reliever Steve Dececco (0-1) took the loss in his first outing of the year, allowing two runs on two hits. The AquaSox pitching staff didn't get much help from their defense, who committed three errors on the night, including a missed catch from Everett second baseman Ketel Marte from a soft line-drive off of a jammed hit from Tri-City outfielder Charlie Blackmon, allowing the game-deciding run to score in the seventh inning.
Outfielders Francisco Sosa and Jarod Berggren each drove in a run and were a combined 2-for-5 on the night, leading the way for the Dust Devils at the plate. Tri-City tallied eight total hits on the night with catcher Anthony Aguilera going 2-for-4 and outfielder Derek Jones going 1-for-3 with a triple.
The penultimate game of the five game series between the Dust Devils and AquaSox is Monday night as Tri-City looks to even the series at two wins apiece. Right-hander Peter Tago will get his first start of the season for Tri-City while righty Seon Gi Kim will start on the mound for Everett. It's also the first Coca-Cola Monday of the season, with all 22-ounce Coke products on sale for just one dollar.