Early Struggles Take Toll on Tri-City in 7-2 Loss
Posted:
Updated: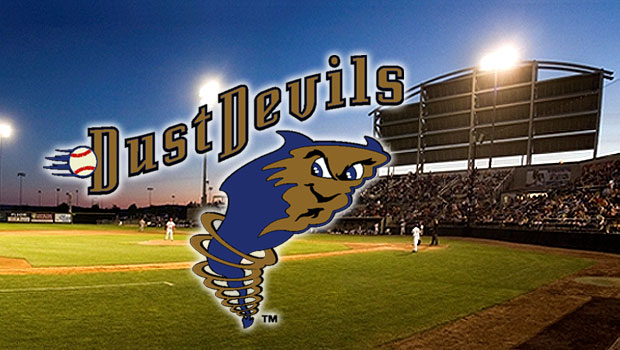 By Heath Harshman, Tri-City Dust Devils
Two runs in the first and four more in the second gave the visiting Everett AquaSox enough support to take out the Tri-City Dust Devils 7-2 Monday night at Gesa Stadium. The Dust Devils picked up their play throughout the rest of the game, but it wasn't enough to secure their second win of the season.
Tri-City (1-3) starter Peter Tago (0-1) struggled with his command in his first start of the season, allowing six runs, all earned, through 3 2/3 innings pitched. He allowed those runs on five hits and two walks while striking out three. The bullpen did well in relief for Tago, as Josh Hungerman, Eric Federico, and Taylor Reid combined to allow one run over the final 5 1/3 innings. The Tri-City pitching staff also combined to strike out 10 batters on the night.
Everett (3-1) starting pitcher Seon Gi Kim (1-0) continued the string of impressive performances by AquaSox starters, allowing one run on four hits over six innings of work. The bullpen made sure the early lead was enough to secure the victory as relievers Brandon Plotz and Oliver Garcia shut the door over the final three innings, allowing one run on two hits.
Tri-City totaled six hits on the night, but was able to drive in just two runners. One Dust Devil run came in to score when outfielder Charlie Blackmon hit his first home run since returning to the Tri-Cities, a solo-shot to right-center field to cut the deficit to one in the first inning. Blackmon finished the game 1-for-2. The rest of the Tri-City bats struggled to string together hits, and managed one run for the rest of the game off of a Yafistel Roja triple that brought home Alec Mehrten. Roja finished the game 1-for-4, putting his batting average at a team-high .417
The series finale between the Dust Devils and AquaSox is Tuesday as Gesa Stadium hosts its lone day game of the season with first pitch scheduled for 11:15 a.m. and gates opening at 10:15 a.m. The Dust Devils will try to earn their second win of the season with right-hander Ryan Arrowood making his professional debut against AquaSox righty Jose Valdivia.