Dust Devils Shut Out AquaSox 6-0 in Annual Day Game
Posted:
Updated: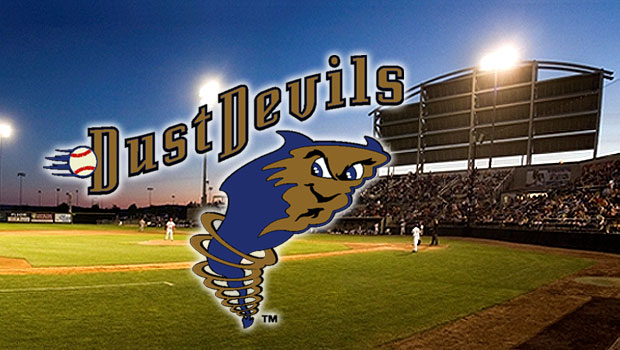 By Tri-City Dust Devils
The Tri-City Dust Devils earned their first shutout of the season as they defeated the Everett AquaSox 6-0 in front of 1,537 fans at the lone day game of the season at Gesa Stadium. The Dust Devils' pitching staff combined to allow just three AquaSox hits on the night en route to the team's second win of the season.
Dust Devils (2-3) starting pitcher Ryan Arrowood pitched well in his professional debut for Tri-City, throwing four shutout innings. The 28th round draft pick in the 2012 MLB First-Year Player Draft by the Colorado Rockies allowed one hit while striking out two and walking one in his first appearance of the year. Righty Chris Dennis (1-0) came on for Arrowood in the fifth and worked three shutout innings on his way to earning his first win of the year. Left-hander Brook Hart (Sv, 1) came on for the final two innings, in which he didn't allow a run on one hit.
AquaSox (3-2) starter Jose Valdivia (0-1) also pitched well in his first outing of the season, allowing one run on four hits while striking out four and walking one over four innings of work. But the AquaSox's lack of offense led to Valdivia getting tagged with the loss. Relievers Marcos Reyna, Mark Bordonaro, and Stephen Ewing combined to allow five runs over the final four innings as the Dust Devils tacked on insurance runs throughout game.
Although the Dust Devils' bats didn't explode in the victory, they did just enough to secure the team's second win of the year. Seven different Dust Devils had hits on the night with Jordan Ribera leading the way, going 3-for-5 with a run scored and three runs driven in.
The Dust Devils will head to Vancouver to take on the Canadians in a rematch of the 2011 Northwest League Championship Series beginning Wednesday night. The five-game series will end on Sunday and the Dust Devils will return to Gesa Stadium for a three-game series with the Yakima Bears beginning on Monday, June 25th.