Downtown Walla Walla fills with crowds for fallen soldier procession
Posted:
Updated: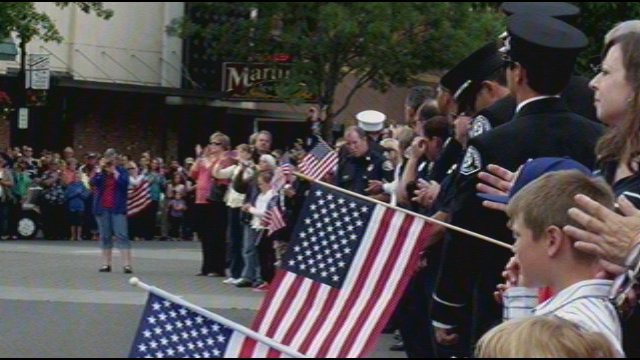 WALLA WALLA, Wash. --Hundreds gathered in Walla Walla to show their support for the family of Lieutenant Mathew Fazzari, whose helicopter was shot down last week in Afghanistan.
25-year-old Mathew Fazzari was on his first deployment when his helicopter was shot down by enemies in Afghanistan on Wednesday. The crash killed him and an officer from California.
Mathew Fazzari found his call to duty while getting his education at Gonzaga University. He was part of the ROTC program. He graduated from Gonzaga University in 2010.
American flags lined downtown Walla Walla and hundreds of friends, family and even complete strangers paid their respects. It was really touching, and I cried, I'm pregnant so maybe that's why, I don't know the family but it was just beautiful," says Kristen Mylet who brought her children to the four mile procession.
It began at the Walla Walla Regional Airport, where Fazzari's body arrived at 11am and ended at Herring Funeral Home.
A group of military mothers also attended the procession, will a dual purpose. "As a military mom, it's our fear, that we have to do this again," says Debi Evans, whose son 19 year old Ryan was just deployed with the US Army three weeks ago.
She says a group of three other women, who are also mothers meet often to support each other. "With this group, we can say one sentence, and the thought is conveyed about the ache in our heart. The fear in our mind ," says Evans.
"The military moms, my go to girls is what I call them. we call each other in the middle of the night, we go out to dinner together," says Donna Morris whose has two children active in the military. Her son Logan Morris is with the Marine Corps serving in Afghanistan and her daughter McKhala is with the US Navy.
Emily Anderson also has a son, Jordan Anderson with the Marines, who is preparing for deployment. She says she sent him a picture of the procession and he was extremely proud of the community.
Despite the tragic loss, a first in this war for Walla Walla, Morris says this opens people's eyes about what our service men and women are doing over seas.. "People in this community because of Mathew and his family, I think they get it now. Because of Mathew I think they understand what families go through," says Morris.
There will be a Rosary Thursday at 7:00pm at Assumption Catholic Church and the funeral will be held there on Friday. It's at 2098 East Adler Street.
On Saturday, the Fazzari family is having a community celebration honoring their son and all those serving our country at Cordiner Hall at Whitman College at 11 a-m. Hundreds are expected to attend.